Intel's A Momentary Lapse Inspirational Image Gallery [Sponsored Post]
If this inspires you, consider entering your own work at www.youtube.com/MyIntelEdgefor a chance to win!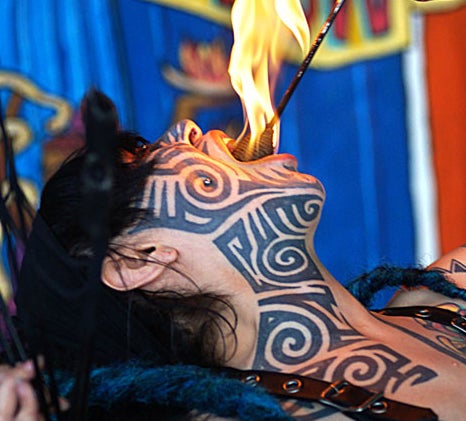 Fire
Eater: Capturing this sideshow performer at the decisive moment of her act required a DSLR with a fast phase-detection AF system and a short shutter lag time: Exposure: 1/200 sec at f/4.5, ISO 320.
Guitar
Man: Flexible framing possible with a fast telephoto zoom helped in capturing this tightly composed action close up of a performer at a Mountain Jam concert, and the camera's excellent performance at high ISOs was a plus. Exposure: f/3.5 at 75mm, ISO 3200.
---
Spanish
Dancer: Creative motion blur due to very slow shutter speed conveys a dynamic feeling of the passionate action in her performance. Relatively sharp background provides an effective contrast. Exposure: 28-70mm f/2.8 lens, f/2.8 at ¼ sec, ISO 100.
---
Horsin'
Around: This handheld available light grab shot of kids at a nighttime 4th of July fireworks display was made possible by the excellent high ISO performance the of late-model DSLR used to take it, and the effectiveness of the image stabilization system built into the lens that helped capture a shake-free image at a slow shutter speed. Exposure: 18-55mm lens at 30mm (45mm equivalent), f/4.5 at 1/25 sec, ISO 6400.
---
---
Motocross
Madness: Controlled jump (!) by a professional motocross racer at a track in San Diego was a frame taken from a 10 fps burst shot with the camera's built-in high-speed motor drive. The DSLR's AF tracking speed and accuracy were also put to the test and it passed with flying colors. Exposure: Focal length 70mm (105mm equivalent), f/10 at 1/4000 sec in shutter-priority mode, ISO 800.