Stylish camera backpacks for carrying your gear
These backpacks elevate camera bag design.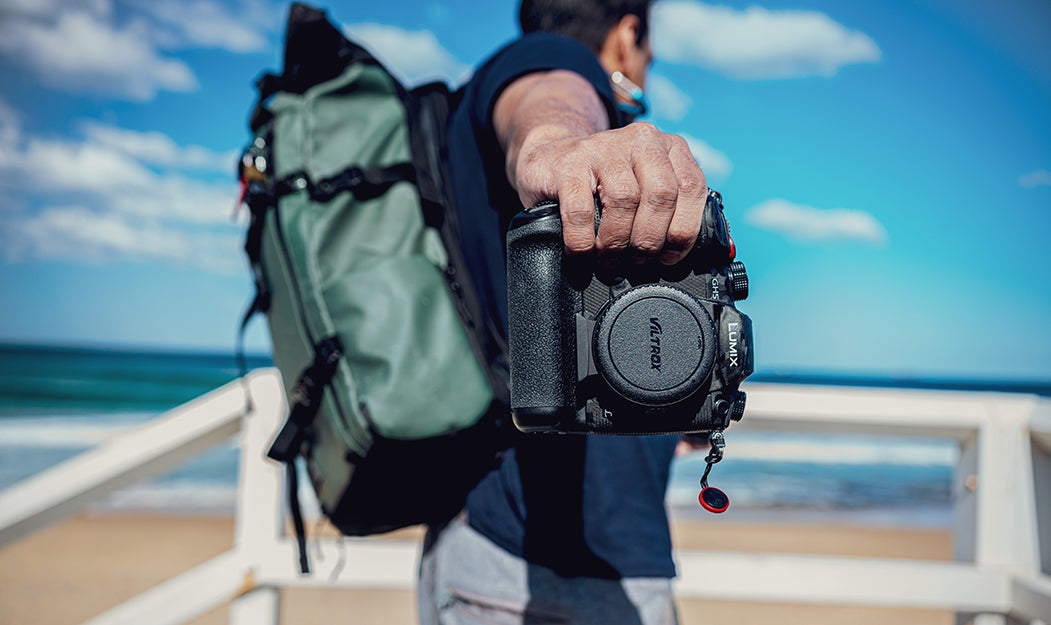 Camera backpack design has come a long way in the last few years, and although it seems there are more options than ever before, finding the perfect camera bag is still an ongoing struggle for many photographers. Finding something that is the right size for both your gear and your body, but still has some style points, can be hard—especially if you are looking for a backpack that doesn't look like it is bursting with expensive camera equipment. These are understated camera backpacks that we love.
Chrome Industries started as a bike messenger bag company, and its camera backpacks follow the same utilitarian designs favored by bike messengers. This weather resistant DSLR backpack has a 23L capacity, and dimensions of 20x10x7 inches. The bag has a large zip around opening with customizable padded dividers for storing lenses, speedlites, and camera bodies. There is a dedicated padded sleeve for a 15-inch laptop, and a separate zippered pocket at the top. Two hook and loop straps on the front can hold a tripod or a skateboard. The bag has an EVA foam panel to avoid getting a sweaty back, ergonomic shoulder straps to make it comfy to carry, a sternum strap to distribute weight more evenly, and true to the bag's bike messenger roots, a side access U-lock holster for securing your bike.
Peak Design's line of bags have become very popular with all kinds of shooters, especially if you are the kind of person that likes every little thing to be in its perfect place. The Peak Design backpack is made of water-resistant polyurethane-coated Kodra fabric, has weather-proof zippers, dual side access zippers, and a unique flex-fold design system that works for a variety of DSLRs, mirrorless cameras, and even drones. The bag also features a number of sub-divided exterior and interior pockets for organizing memory cards, camera batteries, pens, lens filters, and personal items. The expandable 20L design can comfortably hold a full-frame DSLR body and 3 to 4 lenses. The bag features a protected laptop sleeve for computers up to 16 inches. It comes with external carry straps for a tripod, is compatible with roller bags, and features a MagLatch on the top of the bag to keep your gear secure inside. It comes in 20L and 30L capacities and a few different color options.
This bag from HEX looks like a standard backpack, but can hold a ton of equipment without feeling overstuffed. The discrete sack comes in black or an urban camouflage print. It has a large zip-around customizable compartment for your gear, a huge front pocket for personal items, and a dedicated laptop sleeve that fits laptops up to 15 inches. The pack also has ergonomic shoulder straps made of air-mesh for breathability, a foam-padded back panel, a hidden rain cover, an adjustable sternum strap, a water bottle pocket, a luggage handle passthrough for travel with a roller bag, and straps on the bottom for holding a tripod or a jacket. It has a 21L capacity and dimensions of 18 x 12 x 6-inches. It can fit a whole lot of gear, but won't weigh you down.
If you are the type of photographer who likes to travel with a single body and a lens of two the WNDRD PRVKE bag might be the perfect backpack for you. This rolltop bag is designed to be good for toting around camera equipment and photo equipment. It has a slim profile and is made of water-resistant tarpaulin and woven nylon. The pack features a rain-fly with a dedicated pocket at the bottom. The bag is available in 21L or 31L, comes in three colors, and features a removable padded camera cube for your photo equipment. The PRVKE bag was made with traveler's in mind, it has a dedicated passport pocket that is built in to the bag's molded back panel and has a "checkpoint friendly" laptop sleeve—although certain airports still may require you to remove it before going through security. The camera has a quick access side pocket for grabbing your gear without having to remove the backpack, a removable waist strap, a 4-point carrying system for tripods, jackets, yoga mats, or other large items, and an expandable water bottle pocket.
Thule has been making backpacks for a long time and is known for rugged bags that can stand a lot of abuse. Although many Thule bags look like they were designed for hiking through the outdoors, this urban roll top design caught our eye. It's a big bag that can hold a ton of gear, but has a design that doesn't scream camera bag. It has two compartments, a top roomy top section for non-camera equipment and a second section for your camera gear. The camera compartment can be accessed through the right side compartment. There is a dedicated laptop compartment that can hold a 15-inch laptop. The bag features an origami-inspired divider system that keeps gear secure inside the camera compartment and makes it customizable for toting around a variety of gear. The bag features wide straps and a padded back panel. There are also straps on the side for attaching a tripod or light stand to the bag.