Facebook Has Created a 360-Degree Virtual Reality Camera
The 17-camera array can capture 8K VR footage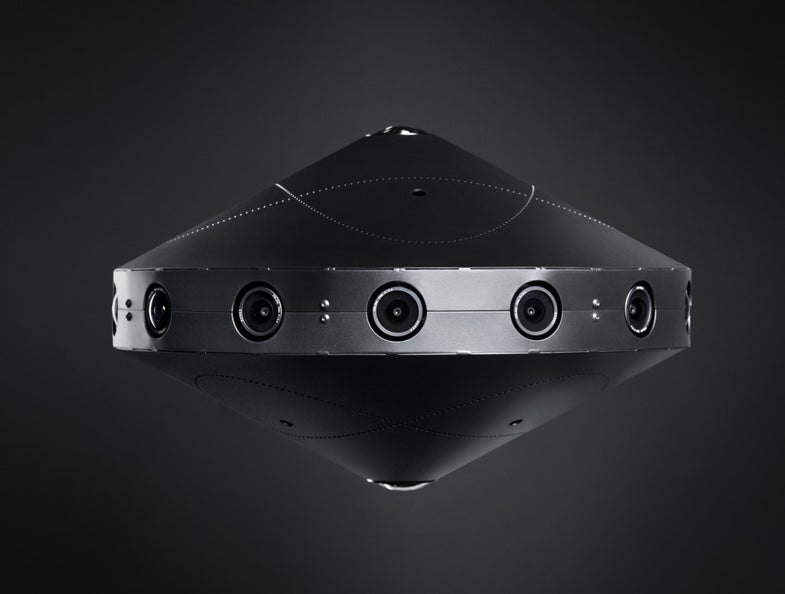 We're used to interfacing with Facebook on a two-dimensional screen, but Zuck & Co. have made some pretty substantial investments in virtual reality, the most interesting of which is the much-anticipated Oculus headset. Now, at its F8 conference, Facebook has dropped some information about its saucer-shaped 360-degree VR capture setup.
Inside the enclosure is an array of 17 cameras: 14 of these form a ring pointing straight out from the middle, while two more point downward and the last one points straight up. The result is up to 8K-resolution video captured in every direction.

We're seeing more and more camera systems using this format, including a new platform from GoPro, a new camera from Nikon, and the evolving Theta series from Ricoh. But, Facebook seems particularly motivated to make this a reality. With its huge investment in Oculus and an increased emphasis on 360-degree video embedded into our News Feeds, the company really seems to hope it succeeds.
The project is open source, so anyone who wants to put together one of these arrays can do so, assuming that you have the roughly $30,000 required to buy the necessary parts. It will be available through Git Hub.
From: Wired