Your Best Shot: September 2009
See the winners of this month's photo contest.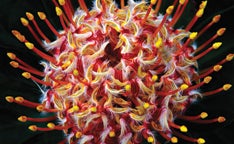 1ST PLACE
$300 WINNER Nick Fedrick, 62, a freelance photographer from San Jose, CA, built his career primarily in weddings and portraits, but his passion has always been for fineart and nature photography. He made this otherworldly close-up image of a protea flower during a chance stop at Sunrise Protea Farm in Maui, HI, by combining his bracketed exposures. Other photos from this series have been published in flower calendars.
TECH INFO: Tripod-mounted Nikon F4s with 28-105mm f/3.5-4.5D Zoom-Nikkor with a Tiffen circular polarizer. Exposures on Fujichrome Velvia 50 slide film not recorded. Images scanned, then combined, and saturation and curves adjusted, in Adobe Photoshop CS3.
2ND PLACE
$200 WINNER Ann Arbor, MI-based "freelance, globetrotting cameraman" Charles Scott, 53, visits Bangkok often. There last year, he noticed the contrasting colors of a restaurant and, inspired by a photo from Tokyo that he'd seen in National Geographic, shot this from the dining area upstairs. See more of his work at www.seascottphotography.com.
TECH INFO: Nikon D80 with 12-24mm f/4 Tokina lens. Exposure: 1/40 sec at f/4, ISO 1600. Minor cropping, curves and saturation adjustments in Photoshop CS3.
3RD PLACE
$100 WINNER The giraffe-feeding station at the Jacksonville Zoo and Gardens in Jim Messer's Florida hometown is usually too crowded to manage a good vantage point for a photograph. But with his new tele zoom, the call-center trainer, 37, was able to reach above the crowd to catch this moment.
TECH INFO: Canon EOS 40D with 70-200mm f/2.8L Canon lens. Exposure: 1/160 sec at f/2.8, ISO 100. Image not edited.
Your Best Shot Frequently Asked Questions (FAQ)
Q: How do I enter?
A: Send digital images — JPEG files of up to 1MB — to YourBestShot@bonniercorp.com.
Q: How many photographs can I enter each month?
A: You may submit up to 5 digital images each month.
Q: Do you only accept "straight" photos, or can I manipulate my images?
A: Either is fine but be sure to tell us what you did. We expect you to make your photos look as good as you can through ordinary techniques such as cropping, color correction, and contrast adjustments. If you're submitting a composite image, please inform us when you send it. But if you're more into photo illustration, check out our annual Digital Wizard contest instead.
Q: How exactly should I name my files?
A: Please use your name as your file name, and if you're making submitting multiple files, number them consecutively. So if your name is Paul Jones and you're sending three photos, name your files pauljones1.jpg, pauljones2.jpg, and pauljones3.jpg.
Q: What kinds of photos win?
A: Our editors love all kinds of photography, so take a look at our web galleries of Your Best Shot winners and finalists. We want to see the best you have to offer. But we don't publish nudes, so keep it clean.
Q: Are there any special file requirements?
A: Yes, if accepted for publication, a 3MP or higher (9MB file size, uncompressed) image will be required. The bigger the better. Click here for more instructions. Also, you can help us keep track of your submission by naming your files after yourself (see the next question).
Q: Can I send slides or prints?
A: No. You can only e-mail digital images.
Q: Will you acknowledge receipt of my entry?
A: Sorry, but with the large volume of entries, that is not possible.
Q: What can I win?
A: If your photo is selected for First Place you will receive $300; $200 for Second Place; $100 for Third Place; and $50 for Honorable Mention. And your photo will be published in Popular Photography magazine and may be showcased in a gallery on the Pop Photo website.
Q: Are there any other chances to be selected?
A: Yes! Your photo could be selected for The Fix, a feature that shows how to make good pictures even better. In that case, you will receive $100. If we run a small version of your photo in the magazine — in a camera's LCD screen, for instance — we'll give you a photo credit but no payment. Also, some runner-up photos may be showcased on the Pop Photo website. There is no prize money for that.
Q: What information should I send with the photos?
A: Your name, address, phone number, and e-mail address. Also, any technical information you can supply about the photo — camera, lens, settings, film, software, and printer. Submitting a composite? Tell us! If you win and we need more material, we will contact you.
Q: Is there anything else I should know?
A: Yes! It's all in the "Official Rules."