Your Best Shot: August 2009
Check out this month's winners and everything you need to know about our monthly photo contest.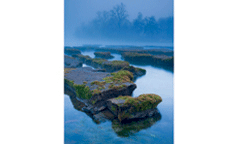 1st Place: Foggy Idea
The old adage, "It's the journey, not the destination" held true for software company owner STEPHEN OACHS, 38. He captured this moody image on the Sacramento River during a trip to Oregon from his home in San Jose, CA. "The river level was low enough at that time of year to expose the 'tiles,' and the earlymorning light illuminated the fog, giving the entire scene a surreal feeling," Oachs says. His photos have previously taken prizes in Your Best Shot in both 2007 and 2008. See more of his work at www.stephenoachs.com.
Tech Info: Tripod-mounted Canon EOS-1D Mark III with 24-105mm f/4L Canon lens and 3-stop Singh-Ray graduated neutraldensity filter. Exposure, 8 sec at f/22, ISO 100. Converted from RAW, with minor adjustment to white balance, exposure, and sharpness in Adobe Photoshop CS4.
2nd Place: V for Victory
BEN BERGH, 38, runs a media agency in Johannesburg, South Africa, and frequently photographs skateboarders. Sam, the athlete in this graphic image, found an abandoned, unfinished office building to skate in, and Bergh positioned himself one story below Sam. They agreed not to use the shot unless Sam landed the trick correctly- after 60 attempts, they finally got this result, which pleased them both.
Tech Info: Nikon D3 with 24-70mm f/2.8 Nikkor lens with four remotetriggered Sunpak flashes. Exposure, 1/250 sec at f/9, ISO 250. Sharpening in Nikon Capture NX.
3rd Place: Light at the End?
Twenty-two-year-old ALEX WISE, a social studies student at the University of Tasmania, traveled his city's seedy underbelly to get this shot. This rivulet under Hobart, Tasmania, is cramped, wet, completely dark and known as a gathering place for "people doing things they shouldn't be doing," Wise says. He traveled with a friend to help him paint the tunnel with a flashlight for this otherworldly image. Check out more of his work at www.alexwisephotography.com.
Tech Info: Tripodmounted Canon EOS Digital Rebel XT with 10-22mm f/3.5-4.5 Canon EF-S lens, with remote trigger. Exposure, 58 sec at f/3.5, ISO 100. Minor sharpening and Levels adjustment in Adobe Photoshop CS2.
Your Best Shot Frequently Asked Questions (FAQ)
Q: How do I enter?
A: Send digital images — JPEG files of up to 1MB — to YourBestShot@bonniercorp.com.
Q: How many photographs can I enter each month?
A: You may submit up to 5 digital images each month.
Q: Do you only accept "straight" photos, or can I manipulate my images?
A: Either is fine but be sure to tell us what you did. We expect you to make your photos look as good as you can through ordinary techniques such as cropping, color correction, and contrast adjustments. If you're submitting a composite image, please inform us when you send it. But if you're more into photo illustration, check out our annual Digital Wizard contest instead.
Q: How exactly should I name my files?
A: Please use your name as your file name, and if you're making submitting multiple files, number them consecutively. So if your name is Paul Jones and you're sending three photos, name your files pauljones1.jpg, pauljones2.jpg, and pauljones3.jpg.
Q: What kinds of photos win?
A: Our editors love all kinds of photography, so take a look at our web galleries of Your Best Shot winners and finalists. We want to see the best you have to offer. But we don't publish nudes, so keep it clean.
Q: Are there any special file requirements?
A: Yes, if accepted for publication, a 3MP or higher (9MB file size, uncompressed) image will be required. The bigger the better. Click here for more instructions. Also, you can help us keep track of your submission by naming your files after yourself (see the next question).
Q: Can I send slides or prints?
A: No. You can only e-mail digital images.
Q: Will you acknowledge receipt of my entry?
A: Sorry, but with the large volume of entries, that is not possible.
Q: What can I win?
A: If your photo is selected for First Place you will receive $300; $200 for Second Place; $100 for Third Place; and $50 for Honorable Mention. And your photo will be published in Popular Photography magazine and may be showcased in a gallery on the Pop Photo website.
Q: Are there any other chances to be selected?
A: Yes! Your photo could be selected for The Fix, a feature that shows how to make good pictures even better. In that case, you will receive $100. If we run a small version of your photo in the magazine — in a camera's LCD screen, for instance — we'll give you a photo credit but no payment. Also, some runner-up photos may be showcased on the Pop Photo website. There is no prize money for that.
Q: What information should I send with the photos?
A: Your name, address, phone number, and e-mail address. Also, any technical information you can supply about the photo — camera, lens, settings, film, software, and printer. Submitting a composite? Tell us! If you win and we need more material, we will contact you.
Q: Is there anything else I should know?
A: Yes! It's all in the "Official Rules."