Win a Trip For Two to Maui
How Bad Do You Want It? Photo Contest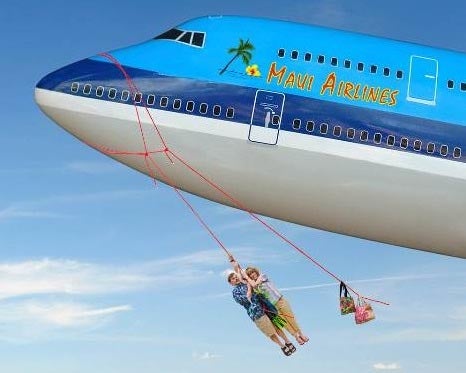 Cold weather, work, responsibility — how bad do you want to escape? Now's your chance to be whisked away to a true photographer's paradise, where you'll spend five nights in the luxurious Royal Lahaina Resort.
The trip, including airfare for two from a North American gateway in the continental U.S., and a rental car to explore black- or white-sand beaches, whale-watch on the Expedition Ferry, climb Haleakala Mountain and/or visit the nearby islands of Lana'i and Moloka'i, could be yours if you win Pop Photo's Maui: How Bad Do You Want It? Photo Contest.
To enter, send us a picture showing how much you want to go to Maui. It must have a tropical, Hawaiian theme. Your entire house decorated in palm fronds. A pineapple relaxing on the beach. A photo of you surfing in the snow. Anything goes so get creative! You can use real photos, image-editing software… whatever you want.
One entry per person. Enter and upload your photo in the Maui 2009 folder at galleries.popphoto.com. Our editors will pick the winner based on creativity and originality, and relevance to the theme. Winner will be notified shortly after April 1, 2009. See complete Contest Rules.
No purchase required. Entries will be accepted from December 1, 2008 through April 1, 2009. You must be at least 21 years of age and a legal resident of the continental United States.
For more about Maui, visit the Maui Visitors Bureau at visitmaui.com. To learn about Royal Lahaina Resort, visit 2Maui.com.
Maui Visitors Bureau and the Royal Lahaina Resort are providing: Trip for two to Maui. Roundtrip coach airfare from the U.S. mainland to Maui. Five nights accommodations at the Royal Lahaina Resort. Daily compact car rental. Certificate valid a year from issue. Prize must be booked at least two months in advance. Subject to restrictions and blackout dates.
UPLOAD DIRECTIONS
Go to the Maui 2009 folder at galleries.popphoto.com after December 1, 2008.

Click on the Register link at the top of the page.

Fill out all fields on the form. (Once you are registered, you will need to log in on each return visit in order to upload your photos.)

Click on the "Click to upload your own image to the gallery" link. (The gallery system will resize your images for screen resolution. Only .gif, .jpg, and .jpeg files will be accepted)

Make sure to add a name and caption for your photo.

Photos may not immediately be visible in the online galleries. Please do not re-upload your photos.