New Gear: Samsung MV900F Wi-Fi enabled Multiview Compact
Samsung's newest compact may be the perfect camera for narcissists but gosh is it packed with features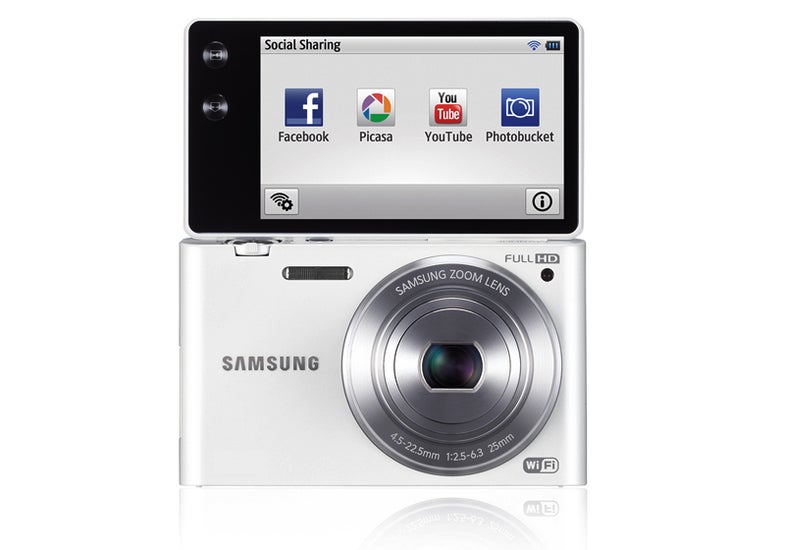 Samsung is a major player in the smartphone market, so it's not surprising to see their cameras getting smarter, better-connected and better-connected. The new MV900F is a perfect example.
At the heart of the camera is a 16.3-megapixel 1/2.3" backside-illuminated CMOS sensor, tucked behind a bright f/2.5 25mm lens (5x optical zoom). Just like its predecessor the MV800, the 900 features a 180-degree 3.3-inch AMOLED flip-up touchscreen. This will presumably lead to untold amounts of 2002-MySpace-style self-portraits. It's not unlike the screen found on Sony's new-ish NEX-F3 ILC.
The MV900F falls into the Samsung Wi-Fi Smart line-up of compacts, which means it can share instantly with Facebook, Picasa, Photobucket and Youtube. The camera also works seamlessly with all Samsung SMART TV's. While apps like Facebook are built into the camera firmware, it's becoming increasingly apparent that a camera app store may be on the horizon.
In addition to its Wi-Fi capabilities, the MV900F is packed with some interesting new features, including Gesture Shot, which works like this: Flip the camera's LCD so its facing you and either have someone hold it or put it on a tripod so that you can stand in front of it. Make a clockwise circular motion with your hand and the camera will zoom in, make a counterclockwise motion and it will zoom out. Once the image is composed moved your arm, pointed at the camera, downward, and the MV900F snaps a photo. It works better than we expected and should feel familiar to anyone who uses Xbox Kinect.
Other cool features include Motion Photo, which allows for the potentially-hilarious merging of a still photo with an MP4 video, so that one area of the frame moves while the rest stays still. You may know the resulting images as cinemagraphs.
Speaking of video, the MV900F offers 1920x1080p HD video capture at 30fps. It will capture stills while rolling video, however they will be 14MP due to the video aspect ratio.
The camera body itself is comprised of magnesium and aluminum. We're looking forward to giving it a full review, but first impressions are definitely positive. Available in late August in black or white, the MV900F will cost you $350.