The best memory cards for photographers
A reliable card is crucial for keeping your precious images safe.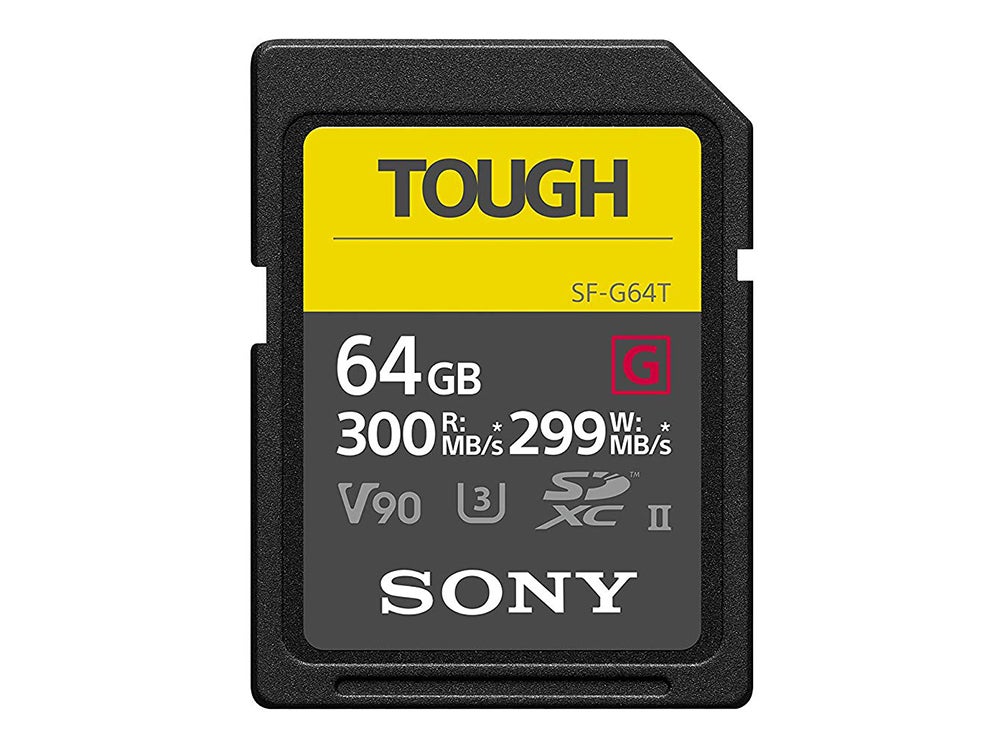 We may earn revenue from the products available on this page and participate in affiliate programs. Learn more ›
A photographer can never have too many memory cards. After all, a top of the line digital camera isn't worth much if you can't save the pictures you snap. But, buying a card isn't as simple as grabbing maximum storage.
If you are looking for the best memory cards to keep those precious images safe during your shoot, look no further. These are our picks for the best memory cards on the market.
Sony's Tough series are the first one-piece, molded SD cards. They lack the flimsy lock switch and the fragile plastic ribs that are prone to breaking off as a card ages. The cards are dustproof, waterproof, and 18 times stronger than a standard SD. They are also fast enough to handle 4K recording and burst mode shooting. The cards have a 300MB/s transfer speed and a 299MB/s write speed. They are UHS-II, Class 10 and U3 compliant. The cards are available in 32 GB, 64 GB, and 128 GB capacities, all of which have the same burly build.
Even budget-friendly cards can be fast. Like the Tough cards, the SF G models (available in 32GB, 64GB, and 128GB capacities) boast a 300MB/s transfer speed and up to 299MB/s write speed, which is speedy enough to handle high-res video and photo bursts.
If you are planning to shoot a lot of 4K or 8K video (which means you will need cards that are fast and have high storage capacities) cards from Delkin Devices may be for you. These SDXC cards are optimized for simultaneous recording and handling 8K, 4K and RAW burst shooting. The card has a UHS-II, V60 rating and a read and write speed of 300/250MB/s. The card is waterproof, shockproof, and X-ray proof. The card is available in 64GB, 128GB, and 256GB capacities.
Think of the Delkin Devices Power SD cards as the Prime card in turbo mode. In addition to being able to handle 8K and 4K video, the Power card is good for 3D imaging, HDR and 360º recording. It has a UHs-II, V90 rating and a read and write speed of 300/250MB/s.
SanDisk's Extreme Pro SD come in capacities from 64GB all the way up to 512GB if you don't mind dropping the cash. The cards aren't blazing fast— they're UHS-I and have a V30 rating with 90 MB/s write speeds and 170 MB/s transfer speeds. Still, that's fine for most applications, even at a professional level.
Although many of the modern day mirrorless cameras only accept SD cards, some DSLRs—especially at the high-end of the market–still require Compact Flash cards. Back in the day CF cards were known for being faster than SD cards, but that is no longer the case. The larger size does in theory make them more durable than an SD card. These cards have a 150MB/s write speed and a transfer speed of 160MB/s. They have a video performance guarantee of VPG-65, which makes them good for shooting full HD video and 4K video with write speeds of 65MB/sec and are UDMA7 enabled. The cards are available in capacities of 32GB, 64GB, 128GB, and 256GB.
Lexar is one of the most recognizable names in flash storage and its memory cards, card readers, and workflow devices have a bit of a cult following the photo world. The Compact Flash cards are UDMA 7 enabled and have transfer speeds up to 160MB/sec for full HD video recording and 4K video. The cards are available in 32 GB, 64 GB, 128 GB, and 256 GB.
If you are shooting with one of Nikon's new Z series cameras you are going to need to get your hands on XQD cards. These cards require a special card reader, but have a max read speed of 440MB/s and a write speed of 400MB/s—making them great for burst shooting and 4K video recording. They are much thicker than a standard SD card, meaning that they will take more of a beating over a longer period of time. These cards have been tested to withstand drops from approximately 16 feet.
If you are shooting with an action cam from DJI, GoPro, or Sony you will need a MicroSD card to pop inside. We like these speedy cards from Sony that have a 95 MB/s transfer speed and a 50 MB/s write speed that are specifically designed for 4K capture and burst shooting. The cards are available in 16GB, 32GB, and 64 GB capacities.