Tips from a Pro: Waiting for the Decisive Moment
A photojournalist explains how photography is a waiting game, much like fishing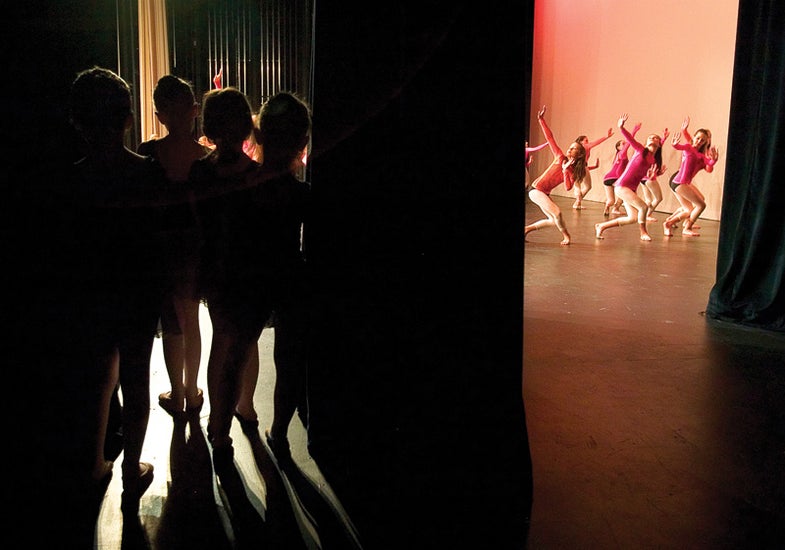 Marc F. Henning, a photojournalist from Bentonville, AR, compares photography to fishing: "You wait and wait for that magical moment you expect to happen. And then, something like [these dancers] falls into place." In life and in photojournalism, patience pays off.
Henning shoots for Northwest Arkansas News, a local newspaper publisher based in Bentonville. In 2008 he was assigned to cover the Classical Ballet Academy's annual year-end performance. On such assignments, newspaper photographers tend to start by capturing at least one usable, "straight" shot that tells the story. For such pictures, Henning tries to get as close as possible and capture some emotion.
Once he's nailed the straight shot, he allows himself to visually interpret the story more creatively. That usually starts with a search for unusual vantage points. For stage performances, he shoots from anywhere but the audience's point of view. "I want a perspective that the average person isn't going to see," he says. "I back off and look for angles and wait for opportunities to present themselves that aren't immediately apparent."
At this ballet recital, Henning shot wide-angle with a Canon EOS-1D and a 17mm f/3.5 Tokina AT-X AF Pro lens. He sought to combine the elements backstage with the action onstage, a classic figure/background relationship.
He stepped back from the dancers in the wings and used the negative space defi ned by the backlit curtains to frame fore- and background dancers. And he liked the way the stage lighting silhouetted his foreground subjects.
Once he'd locked in this composition, it became a waiting game. "It's not very often that the elements fall into place," he says. "You pray somebody is going to work their way into the space you've provided for them in the composition. You mutter, 'Please, please, please, c'mon— it's lined up perfectly!'"
In this case, time and luck were on his side. "The anticipation and preparation are really important, and when it happens you feel you've won a small victory," Henning says. "I've shot such events across a 14-year career, and this is one of the better dance photos—the magic moment actually presented itself!"