Weekend Brief: Making Sense of Photo Contests, a Vintage Space Selfie, and Susan Sontag Doc
Need-to-know photography links, tweets, podcasts, and videos—the week's best curated every Friday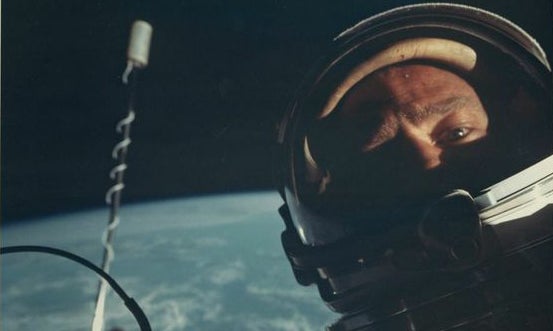 Commentary on World Press Photo Winners
World Press Photo announced the winner of Photo of the Year 2014, along with the fact that over 20% of finalists had been eliminated for excessive post-processing. Comments poured in almost immediately—from Jörg Colberg, Olivia Nita, Paul Melcher, Olivier Laurent, BagNewsNotes, Photoshelter, among others. The contest's "house photographer" Bas De Meijer offered a behind-the-scenes perspective, judge Alessia Glaviano spoke about the process in an interview with Vogue Italia, and social media stories from the staff and jury were compiled on Storify. David Campbell, secretary of the contest, was busy fielding questions on Twitter, and attempted to outline what we talk about when we talk "image manipulation." Also, Mikko Takkunen noticed something very cool:
Aperture Foundation Launches New Photography App
A free bi-monthly publication delivered to your mobile phone or tablet sampling articles from new and archived issues of Aperture magazine, The Photobook Review and the Aperture blog, with behind-the-scenes insight on the publishing operation and exhibition programs.
Trailer for Susan Sontag Documentary
"Regarding Susan Sontag" explores the life of one of the foremost theorists on photography of the 20th century. See a list of upcoming screening.
Photographer Flips Home/Studio in NYC for $55 Million
Jay Maisel finally sold his graffiti covered building on the Bowery—one of the last relics of once-upon-a-time New York on the Lower East Side—for $55 million dollars to a real estate developer. In the 1960s, he originally bought it for just over $100,000. A rare video tour shows a massive, dream photo studio inside—nothing like what you'd expect having only seen the facade.
_** Portraits of Photographers Holding Their Most Famous Photos**_
International Business Times ran a selection from Tim Mantoani's series made with the Polaroid 20×24 Land Camera. Subjects include Steve McCurry, Nick Ut, Donna Ferrato and more.
Drunken Gorilla Attacks Wildlife Photographer
A headline that pretty much sums it all up. The photo he came away with is equally priceless.
Audio Pick: Lynsey Addario on NPR
The twice-kidnapped photographer joins Terry Gross on "Fresh Air" to talk about her new memoir and why she keeps going back to war zones.
Kickstarter Pick: My Favorite Color Was Yellow
A self-published photobook documenting the overwhelming presence of the color pink in young girls lives in the U.K. Nice environmental portraiture by Kirsty Mackay. Now about a quarter of the way to her goal with two weeks to go.
Longread Pick: Fred Ritchin on the Shortcomings of the "Decisive Moment"
Responding to Nathan Weber's unsettling, wide angle image of a pack of photographers crowding a corpse and looking for the right shot in the wake of the earthquake in Haiti, Ritchin writes on "How Photography's 'Decisive Moment' Often Depicts an Incomplete View of Reality."
Video Pick: Eugene Richards in Conversation at the Missouri School of Journalism
A 30-minute interview with the soft-spoken, ever-inspiring photographer about his five decade career.