Watch This: How Philippe Halsman Captured Salvador Dali in Flight
A 37-year collaboration that resulted in some beautiful and bizarre images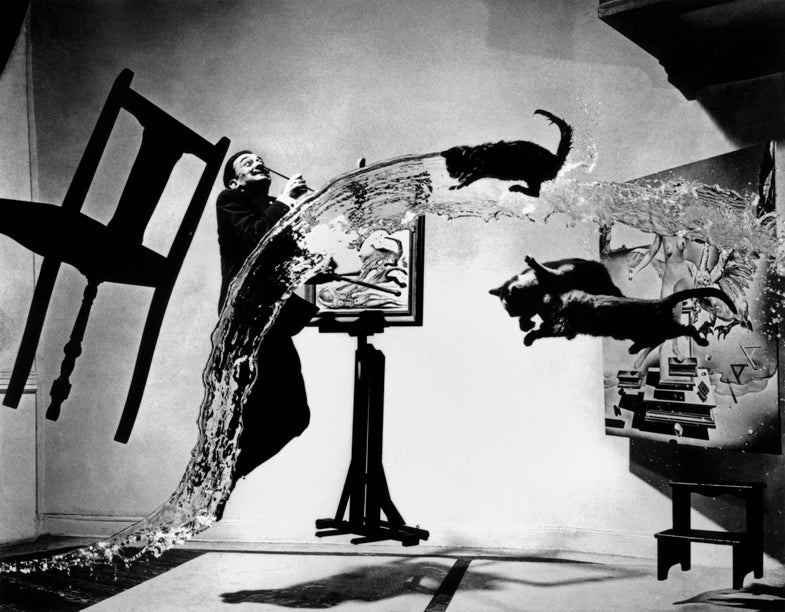 A new video from Time's Red Border Films takes an in-depth look at how Philippe Halsman, who was well known for asking his famous portrait sitters to "jump," captured one of his most iconic portraits of the surrealist painter Salvador Dalí.
Narrated by Halsman's daughter, Irene Halsman, the short film is a reminder of how powerful it can be when two artists working in different mediums forge a true collaboration.
The famous portrait, which features three cats, a bucket of water, a chair, a work-in-progress piece on an artist's easel, and one finished painting took the help of the entire Halsman family to pull off. Halsman suspended the easel, the stool, and the finished picture with invisible wire; his wife held the chair; the photo assistants threw the cats and the water; and then it was up to Irene to catch the cats and dry them off. In between each take, Halsman would develop the film to check the composition of the image and determine if it needed to be re-shot.
Check out the full video above.
[Via: Lightbox]