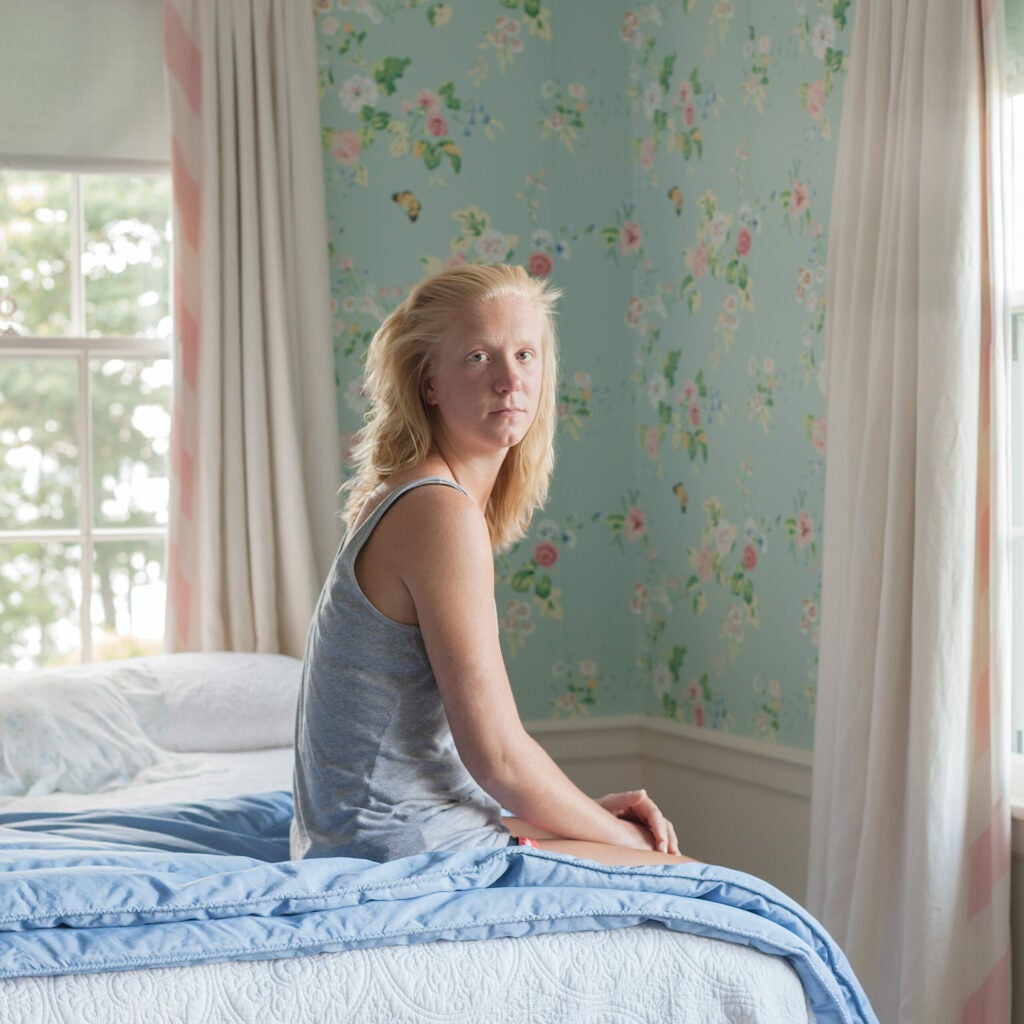 It's a challenging time to be a working photographer. Regular people armed with automatic-everything cameras and smartphones have taken a lot of what used to be professional business, as art directors troll Instagram for images they once would have assigned and sports publications solicit stills from telephoto-wielding fans. Short of devoting your career to weddings and portraiture, what's a photographer to do? Is more photo education the answer? And if it is, will a one-year certificate program suffice, or should you get an MFA?
Frances F. Denny is a successful emerging photographer who went on to do both, the former at New York's International Center of Photography (ICP) and the latter at Rhode Island School of Design (RISD), after earning her BA from New York University. "I realized I needed a technical education beyond the traditional darkroom, which was all I knew after college," says the photographer, who had a one-person show at New York City's widely respected ClampArt gallery earlier this year.
"The General Studies program at ICP gave me that foundation, and helped me discover what I cared about as an artist. But after being an assistant and working on my portfolio, I saw the value of the MFA, in particular to be able to teach." Denny says the RISD program demanded that she "work very hard to produce new photographs constantly," which in turn forced her to "take a lot of artistic risks."
Marina Berio, who chairs the ICP General Studies program, argues that it frees students from the non photographic demands placed on them by "à la carte" BA and even BFA programs. "There's a higher level of conversation," she says. "Our students have fully committed themselves to photography and, because they've usually taken time off from schooling before coming here, they bring richer life histories into the classroom." That richness, she says, is of special benefit to younger students who may be fresh out of college. Berio also points out that a one-year program is much less expensive than the two years of an MFA—no small matter given the soaring cost of higher education.
What might you gain from those two years that you wouldn't get from a certificate program? The most obvious answer is a teaching job. Most colleges and universities require that faculty members have an MFA—even if they're part-time adjuncts, who are now gradually replacing more expensive tenured professors. It's considered an advantage even for high-school teaching jobs, especially in the private sector. And if you're looking for a more theoretical grounding, MFA programs are probably a better choice than certificate programs, many of which are technically and commercially oriented.
"We really don't teach technique," says Jim Stone, who has taught in the University of New Mexico's photography MFA program for many years. "We're certainly willing to help our students figure out what they need to know to do the work they want to do, but our goal is for them to develop an ability to bring their ideas and process together at a mature level, and to recognize any weak spots."
Ken Light of UC Berkeley's Graduate School of Journalism is an avid proponent of the MFA, despite having taught for over 15 years before getting his own. "When people used to tell me I should get an MFA, I'd roll my eyes and ask, why?" he recalls. "Now, more than ever, you need one to teach photography at the college level. But beyond that, it lets photographers step outside the work world and be exposed to advanced ideas."
Light, whose new book, What's Going On? 1969–1974 (Light Squared Media), proves that you don't need an MFA to be a great photographer, says that even the teachers in MFA programs tend to be more well-known and experienced photographers. His advice: "Don't wait 15 years to do it, like I did. It will open doors for you." He is optimistic, in fact, that as the original generation of lifelong photo teachers continues to retire, more faculty jobs will become available.
But ask photographer Chris New, who recently entered the working world with a BFA from Savannah College of Art and Design, and he'll tell you a completely different story.
"I would never consider getting an MFA," says New, who directs multimedia (and shoots) for Group SJR, a Brooklyn-based content-marketing startup. "I can't remember a single time that anyone has questioned my qualifications. I think a lot of kids go back into the MFA after college because they're afraid to take a shot at the real world, but no one cares about your degree as long as you have a great portfolio."
Greg Ceo, one of New's SCAD teachers and a successful advertising and editorial photographer himself, seconds New's views. "As long as you get some assisting experience after school, or do an internship with a magazine if you want to go the photo editor route, you can start working immediately in the field," he offers. "Getting an MFA has no bearing on success or failure in commercial photography."
There does appear to be a middle ground in the muddle of post-graduate possibilities. The Master of Professional Studies (MPS) in digital photography is offered as an alternative by a few schools, including Boston's Northeastern University and New York's School of Visual Arts, which also grants an MPS in fashion photography. "Our program is very intensive and results-oriented," says MPS Digital Photography Chair Katrin Eismann, whose faculty includes real-world talent such as celebrity portraitist Greg Gorman and commercial guru Jack Reznicki. By the way, neither of those masters has an MFA in photography.
And what about you? Do you really need a master's degree, or even a postgraduate certificate, to succeed in photography? As our experts concur, the first step is to clarify your particular ambitions as a photographer and proceed accordingly. Are you clear about your love of photography but still hazy on your future? Postgraduate photo education can be an opportunity to define and refine your skills, and, as Frances Denny says, to "find what you care about as an artist."
Read more stories like these by downloading the full issue of Popular Photography On Campus.