Secret Service Agent Choke Slams Photojournalist During Trump Rally
"The agent's response was disproportionate and unnecessarily violent"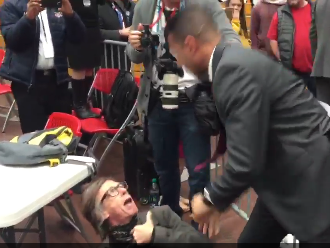 A TIME photographer was reportedly choked and slammed to the ground by a Secret Service agent and then briefly detained during a Donald Trump rally in Virginia yesterday. Christopher Morris, a White House photographer for nearly a decade, briefly stepped outside of the press pen to photograph Black Lives Matter protestors who interrupted Trump's speech before being thrown to the ground, which can be seen in the GIF above.
A separate video reportedly shows Morris kicking the agent away, confronting him about grabbing his neck and briefly putting his hands around the agent's throat—as a way to demonstrate to the press lead what had just happened to him. Trump has a strict policy when it comes to press covering his events: reporters are screened, must stay in a small gated area and the candidate often mocks them during his speeches.
"What happened today was very unfortunately and unexpected. The rules at Trump events are significantly stricter than other campaigns and make it very difficult to work as a photographer, as many other have pointed out before me," Morris said in a statement published by TIME. "I regret my role in the confrontation, but the agent's response was disproportionate and unnecessarily violent. I hope this incident helps call attention to the challenges of press access."
The altercation occurred only a few days after Poynter published a piece detailing all of the times that Trump has attempted to strong-arm the media during his campaign events.
The Trump campaign released the following statement following the rally: ""There was an incident involving a photographer and a USSS agent at today's Radford University Trump rally.We are not aware of all the details surrounding the incident and all future inquiries should be directed to local law enforcement."
The Secret Service also issued a statement: "The Secret Service is aware of an incident involving an employee of the Secret Service that occurred earlier today in Radford, VA. At this time, our local field office is working with their law enforcement partners to determine the exact circumstances that led up to this incident. The Secret Service will provide further details as warranted once additional facts surrounding the situation are known."