Platon's Powerful Pictures of U.S. Troops
A portrait master turns his lens on men and women in uniform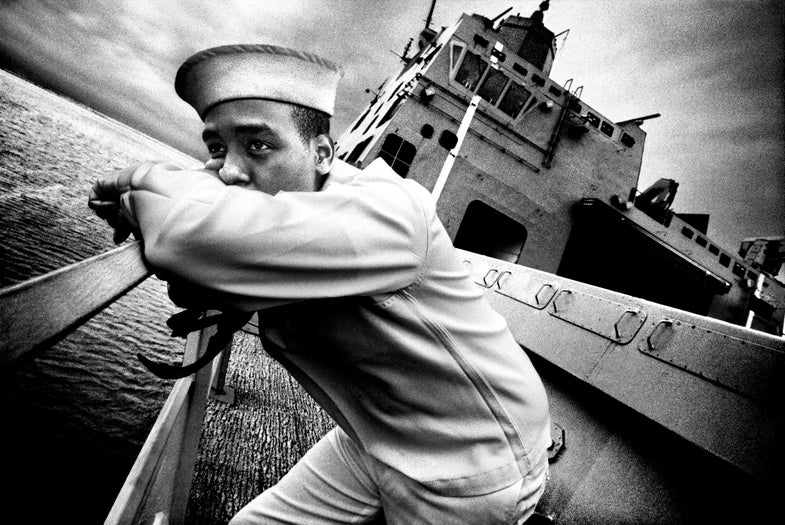 When British photographer Platon moved to New York City in 1998, he began photographing world leaders for George magazine and later others including Time, Esquire, Rolling Stone, and Vanity Fair. By 2008, when he stepped into Richard Avedon's shoes as staff photographer for The New Yorker, Platon had created hundreds of intimate portraits of heads of state, ranging from Bill Clinton and George W. Bush to Robert Mugabe and Muammar Gaddafi, many of which are collected in his 2011 volume Power.
"I was an inch and a half away from Putin's nose, and I photographed Obama a few minutes after he first announced he was running for president," Platon tells American Photo. "I had immersed myself in the idea of power and leadership and I'd seen it up close and personal. But really, what is good leadership? It's about strength, charisma, authority, a sense of vision—yet there's also something else, and that's service. Technically as a leader you are a servant of the people. I saw all the strength-and-power stuff—but I didn't see too much of the service side."
This realization led to Service, Platon's seminal portfolio for The New Yorker, focused on American soldiers—in training, deployment, and returning from war—as well as their loved ones. The series comprises a new book from Prestel and a vast exhibit at New York's Milk Gallery that is on view through July 24. Beautifully printed in sizes up to 60 inches wide, many of the black-and-white images reflect Platon's studio portrait style: This shot of Specialist Patrick Quinn in full combat gear features a wide-angle view with dense depth of field, focused on the eyes. "He's wearing night vision goggles which form images by detecting discrepancies in temperatures among objects," Platon says.
Platon also ventures into the field with a more documentary approach, such as his photo of troops decked out at Fort Irwin, in California's Mojave Desert. "Outside the studio, Platon's images became freer and more emotionally charged," writes Elisabeth Biondi, former visuals editor at The New Yorker, in her intro to the Service book. "Some of his most compassionate pictures were done on location." Platon notes that in situations like this, "soldiers train in temperatures that average well above 100 degrees."
Among several training regimens are simulated battle scenes, in which soldiers confront war-like conditions involving special-effects explosives and rescue operations. At Fort Irwin, Platon depicts Vincent Butto, who plays a soldier who has suffered a severe injury. "Butto, a civilian with no military experience, is one of the real-life double amputees playing a victim of an IED," Platon says.
Platon portrays U.S. soldiers and sailors leaving their families as they leave for duty in Iraq, Afghanistan, and elsewhere. "These are couples saying goodbye before deployment aboard the USS San Antonio," Platon says. "The average length of deployment on the naval ship is six to twelve months."
Throughout this project Platon documented soldiers stateside—as they were headed to service and as they returned—albeit not actually in battle overseas. "Leaving for war meant something heroic and brave," he says, "but when they came back, everything seemed to change." Embarking on the USS San Antonio for the Mediterranean Sea and the Persian Gulf, Seaman Kevin Dean conveys the solitude of his impending journey.
Many of Platon's images in the "Coming Home" chapter of Service reflect the complex psychological states of returning vets. Sergeant Matthis Chiroux, honorably discharged in 2007 after five years of service, refused to be redeployed to Iraq. He is a member of Iraq Veterans Against the War, an advocacy group fighting for the withdrawal and reparation of U.S. military action in the Middle East.
After losing both of his legs on his second tour in Iraq, Sergeant Tim Johannsen is cradled by his wife, Jacquelyne Kay, at Walter Reed Army Medical Center. "This picture is divided in two," Platon says. "The top part is about love and trust; the bottom part is about devastation and loss. And you are able to see a transference of power. His wife is putting her protective arm in front of him, as if to say, 'No one is ever going to hurt him again. I am taking control now. He's under my watch.' And as she feels her strength, he's allowed to just give in and fall under her protection."
At Arlington National Cemetery, Platon spotted Elsheba Khan visiting the grave of her son, Specialist Kareem Rashad Sultan Khan, who died as a U.S. soldier in Iraq. "She got out her book and read to his spirit—it was incredibly moving," Platon says. "Though her son had died, the dialog continued." She agreed to sit for a portrait. "She put the book at the base of his headstone and got behind it as if she's hugging her son. I was so caught up in the moment that I didn't realize the book was the Qoran. I was focused on her humanity."
Shortly before the 2008 election, the image ran as part of a photo-essay in The New Yorker. A week later, on Meet the Press, General Colin Powell announced that, as a Republican, he would endorse Barack Obama. "He said, 'A photograph changed my mind' and he described this picture," Platon recalls. "He had heard people claiming that Obama is a Muslim and he might be associated with terrorists. He said, 'First of all he's not a Muslim, he's a Christian. And second, what if he were a Muslim? What's wrong with being a Muslim in America? We are supposed to be a country that's beautiful because of our differences. I saw a picture of an American Muslim, and she gave the greatest sacrifice you could ever give to her country: her son's life.'"
Three months before this portrait, Jessica Gray was widowed when her husband, Staff Sergeant Yance Gray, was killed in Baghdad while serving with the 82nd Airborne Division. "She holds the flag that they draped over his coffin, and she has his wedding ring on a chain around her neck," Platon says. "If you've been killed in combat, the military sends your belongings back to your family in a metal box. Jessica had received the box but she had not yet had the courage to open it. I was in her home setting up the picture and I said, 'It would be interesting if you could wear an item of his clothes as a tribute."'
Gray agreed and they decided to open the box. "We each undid a latch, and as we lifted the lid, she burst into tears," Platon says. "And I felt so ashamed—I had crossed that line; I had put a photograph first, and my thoughts about the person's feelings second. So I said to her, 'Let's not do this; it's only a photograph.'" Platon recalls that she wiped her eyes, composed herself, and replied: "You don't understand why I cry. I cry because I just realized that they washed his clothes, and I wanted to smell him again.'"