On the Job with Todd Baxter
Bringing the look of 1970s sci-fi to contemporary commercial photography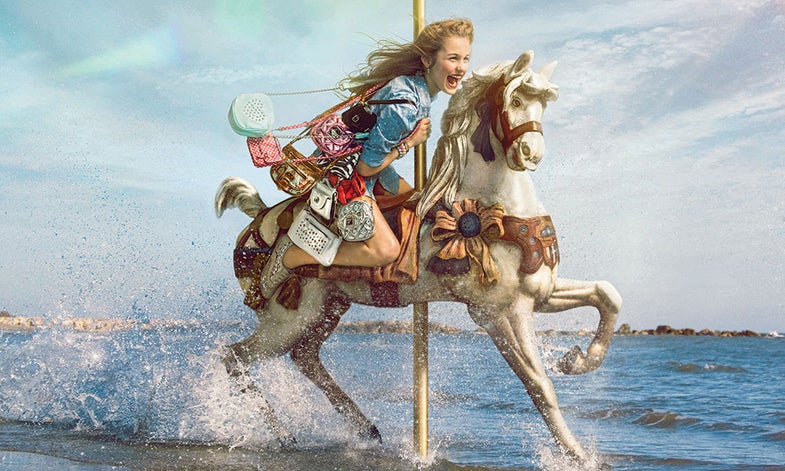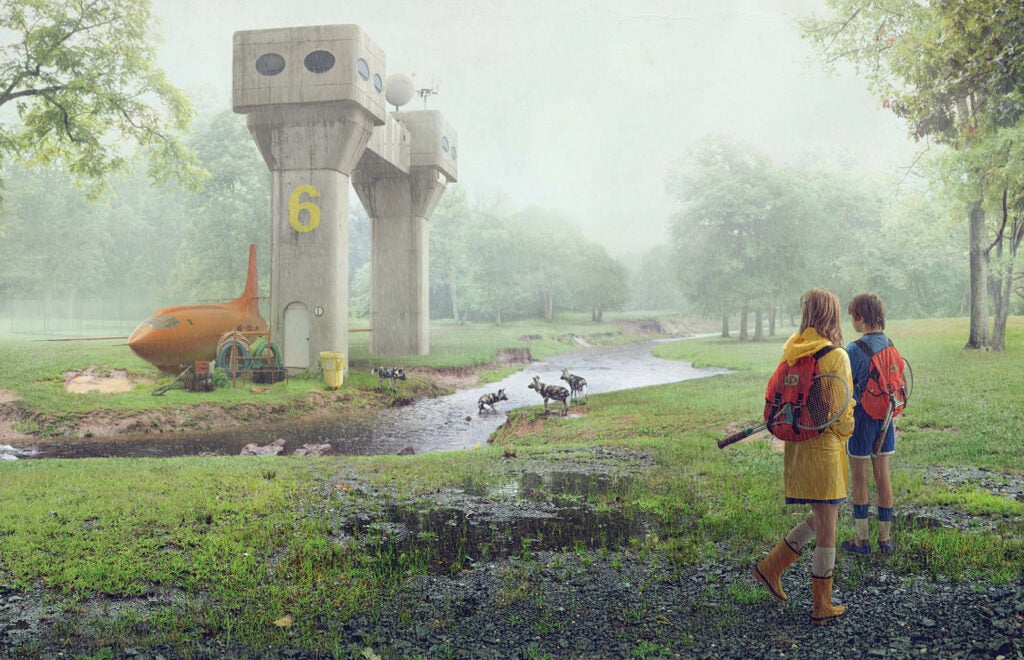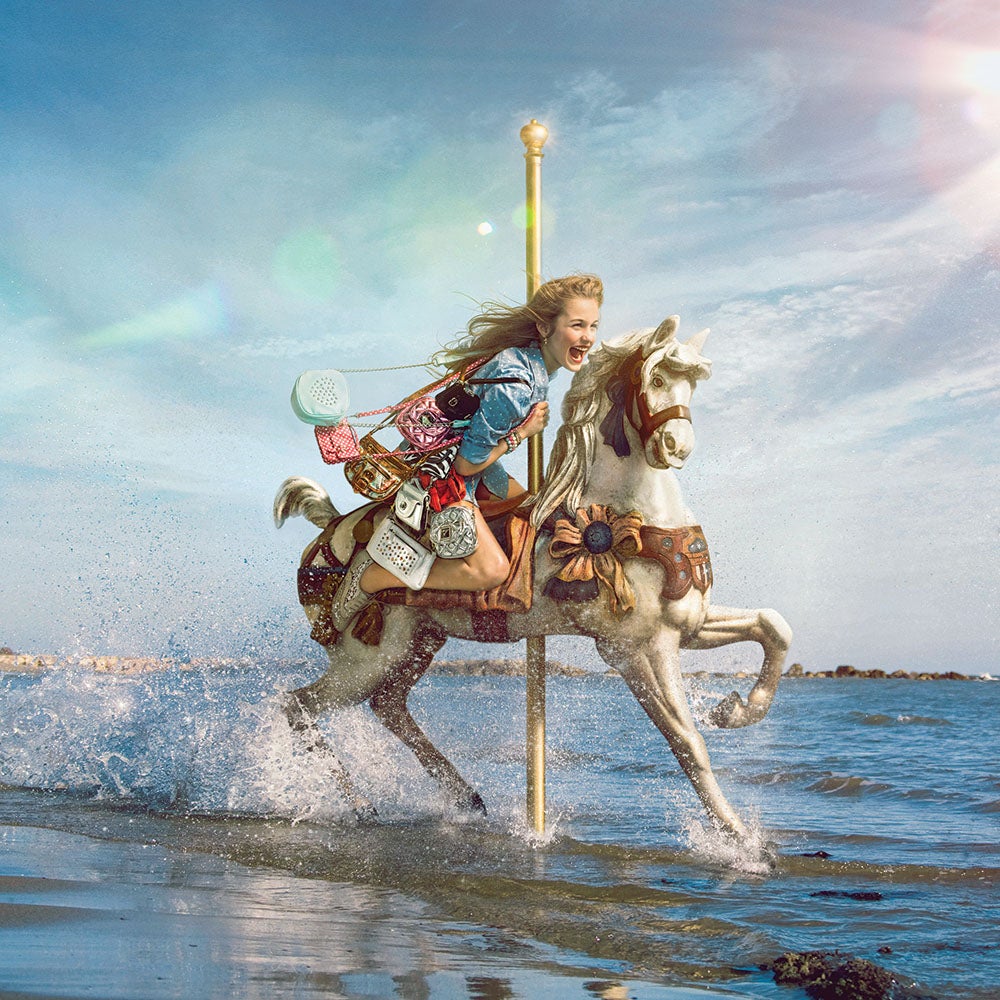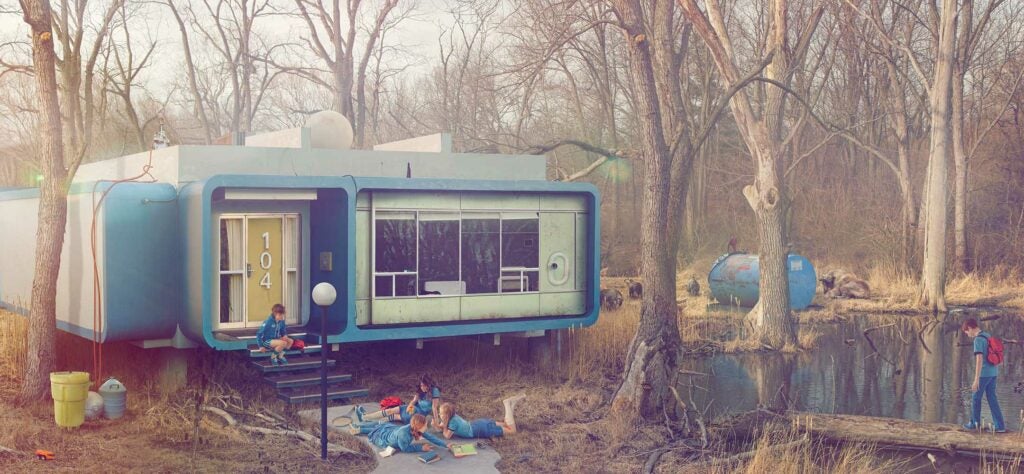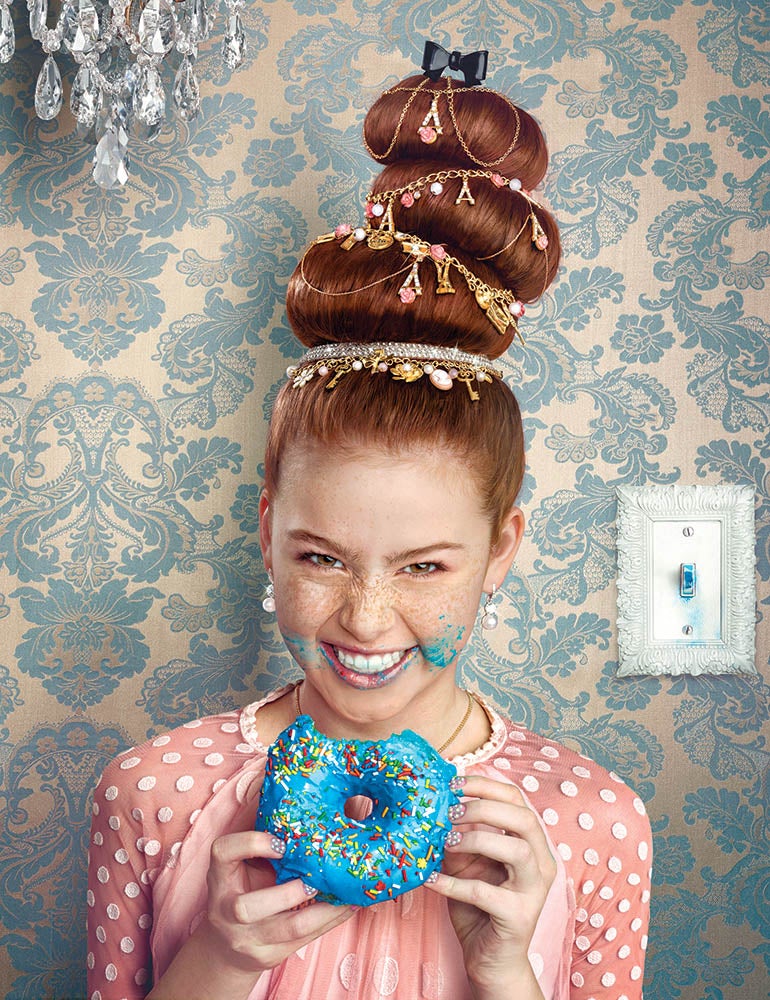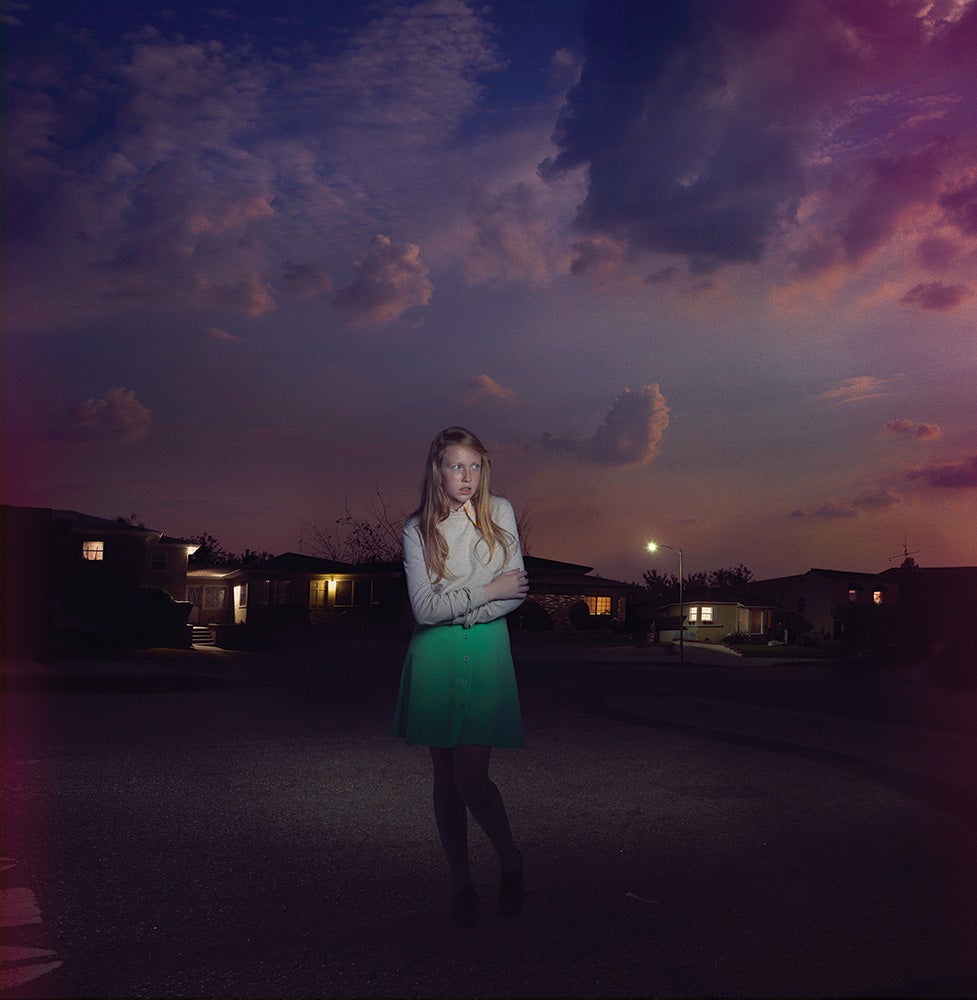 I am constantly photographing all over, wherever I live or wherever I travel. About seven years ago I went to Guam with my sister—I had miles to use and the places I could go were limited, and Guam was on the list. There's a lot of 1960s architecture there that's kind of falling apart. One of those buildings became the house in "Project Astoria" (featured above)—it was actually an office supply store in a strip mall there. The back- ground of that image is a location near my sister-in- law's house in Indiana. All these images and items that I collect, not necessarily knowing what they're going to be—reference images; thrift store oddities; strange bits of plastic, hoses, and forms that are just beautiful objects on their own; space-agey items that remind me of the way things looked when I was a kid in the '70s—it all seems to come together to form the scenes I pull out of my head.
For a long time my images were isolated scenes. I had always really liked Cindy Sherman's "Untitled Film Stills;" I was fascinated by the idea of a moment that evoked a story but didn't tell you what was happening before or after. I loved the mystery.
When I was working on my Owl Scouts series in 2011, one of my roommates in Chicago was a graphic novelist. He'd have all the pages up in his studio. I started seeing single images turning into the cells of a comic book page, turning into a story line. I think that kind of evolution just seeped into my subconscious. I still wanted to keep that feeling of mystery, but it was fun to tell a bigger story than just the single image could. So the project evolved. It was the most ambitious thing I'd ever done. At the end, I thought I'd never do anything like it again. Then the next thing I did was Project Astoria, which is a much bigger narrative and world.
Again, it started with a single picture. I had done an image of these two astronaut figures in a field surrounded by tapirs, which are a kind of South American anteater—they were actually a setting from the Field Museum in Chicago. And that inspired a loose narrative. When I was a kid, my family would always go to the Smithsonian's National Air and Space Museum in Washington, D.C. (my dad and grandpa had both been engineers, and my dad had worked on Skylab, the country's first space station). Back then, it felt like there was all this promise, and then none of it really happened. In my teens and twenties, as I would travel around I would see old World's Fair buildings or old Olympic Villages. They were all kind of forgotten, like we gave up on the future.
That idea paralleled a classic coming-of-age story, that time when you start to realize that the world you'd envisioned isn't panning out. I think that realization happens to every kid at some point growing up, and it's a hard transition. In some ways Astoria is a metaphor for that idea. It lives between utopia and dystopia. It's just a little beautiful, and a little sad. I like those in-between emotional spaces.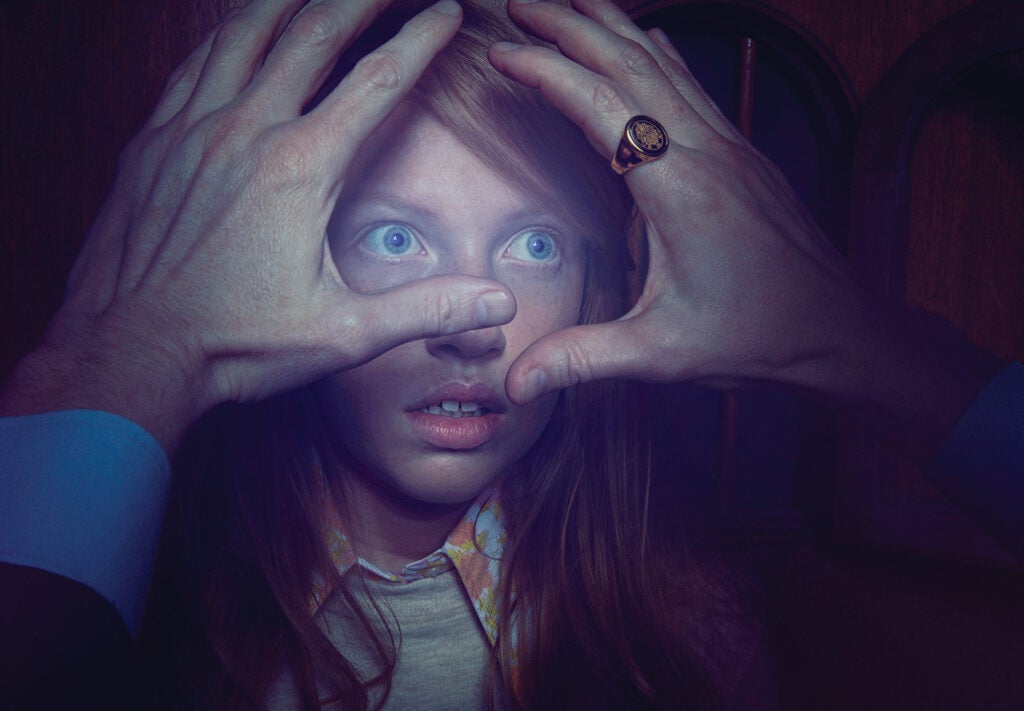 I work very closely with my wife, Aubrey Videtto, and she's actually responsible for a lot of the storytelling. As they've become more developed, we're hoping to move more into film. The Spoon project came about as a gesture in that direction. It was going to be a music video with the concept that it was a trailer for an imagined movie. The creative director on the project was someone I've worked with over the years, and he had been working with the band Spoon on this project for their album They Want My Soul. Britt Daniel, the band's leader, liked Astoria, so we started brainstorming and came up with a look based on the genre of the '70s psychological thriller. The story is super dorky, but also a fun way to indulge in the world of the B-movie without making fun of it at all.
When I started doing commercial photography I wasn't trying to inject any of my art into it. I'd been doing graphic design work at ad agencies in Chicago, and I started doing some photo shoots on the side. I'd only made a few pieces that were a little more surreal, more the kind of work that would interest me personally. I met with a rep and showed her all my work, and she said those were the only interesting ones. It was awesome to realize I could just make things that I'm excited about making.
It's definitely a balancing act doing commercial work. There are so many tiny little decisions that go into the final aesthetic—composition and color, styling, processing RAW files—I'm always just trying to make the best decisions possible, and they combine and add up to a recognizable look, and that's what brings people to want to work with me. I feel like the danger is things getting watered down from too many people making compromises.
Claire's, the teen accessory store, was a really fun project with the Havas agency in Chicago. We were trying to go with the idea of multiplicity: Since the products are inexpensive, you can buy lots. Certain things in multiplicity are good, and there are certain things where you can have too much of a good thing. So we just brainstormed lots of fun images and ran them by the client. We had an overly ambitious shoot. We did about 15 shots in two days, and a lot of the setups are really elaborate.
And some of them were more risky, like one with a girl drumming on a roof under a lightning-filled sky. A client could have said, "A kid on the roof? With lightning? We can't do that." But the creative director, Tyler DeAngelo, was willing to push more, I think, because he knows it's better in the long run for the client. He doesn't mind the conflict, which is an interesting part of that world.
For my part, I've been trying to improve my communication with clients. I feel as if they're just nervous and sometimes they can't see the benefit of pursuing a particular idea, so part of my job is to try to explain it in a way that makes them feel safe about it. I've found that the kind of work I like to do has been successful at getting me commercial jobs that then allow me to pay the bills and do more of my personal projects. So they feed off each other in a really nice way.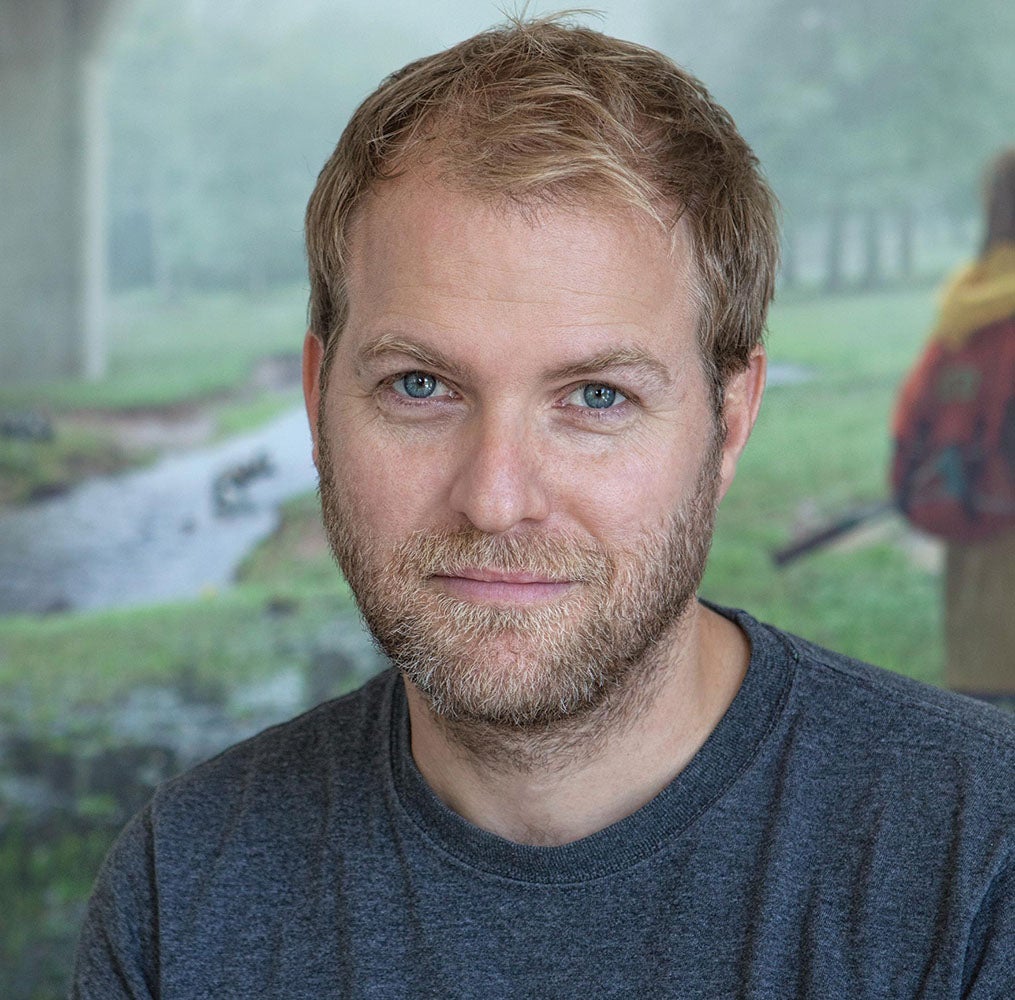 Todd Baxter began his pho­tography career in Chicago, where he lived for 12 years among a supportive com­munity while working as a designer at ad agencies. Now based in Los Angeles with his wife and creative/business partner Aubrey Videtto, he shoots commercial, editorial, and personal projects worldwide. See more of his work at baxterphoto.com