Interview: Seph Lawless' 'Black Friday'
Visit any photo-sharing site and among the top-rated and shared photos, you'll almost certainly find images of abandoned buildings. Some...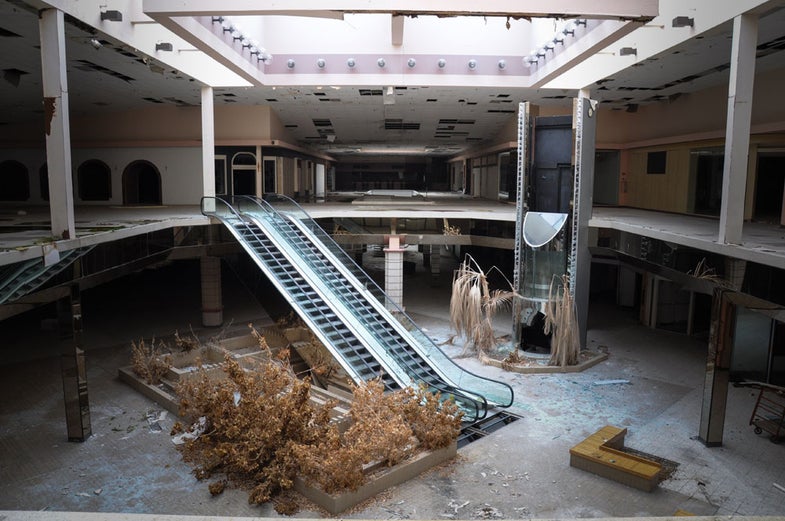 Visit any photo-sharing site and among the top-rated and shared photos, you'll almost certainly find images of abandoned buildings. Some have dubbed it "ruin porn" and the photo community's reaction to it is split. Seph Lawless, however, has been taking photos of abandoned places for years. His tactics are reminiscent of a graffiti artist, with his pseudonym and sneak-around style. Now, his latest project has gained the public's eye once again. "Black Friday" is a collection of photographs taken at abandoned malls. The "creepy" photos seem to have struck a chord with people who grew up walking the tiled halls of mega shopping centers. We talked to Seph about the current state of UrbEx photography and how the way we interact with photography is changing.
How did the project come about? It kind of stemmed from a project I worked on between 2012 to 2013, it was called Autopsy of America. It kind of culminated into a book as well. In that project, I traveled all over America documenting the most broken and abandoned and forgotten sections of the country. The buildings, and hospitals, and homes, and even malls and shopping centers and stuff like that.
Out of all those sites, what was it that drew you specifically to the malls? I knew malls would be very relatable to a lot of people. We all grew up with malls to a certain extent. It was a happier time for America. Our country was a little bit more vibrant and thriving. I found that people were connecting with these photographs more so than any other photographs that I've ever taken. They started writing me and sharing some of these personal stories they had at these malls. I kind of knew I was on to something. I found people were not only missing the malls, but they missed everything that's connected to them. In a sense, they missed America, because shopping malls kind of represented us at that time. They played an intricate role in a lot of people's lives.
Having grown up in the '80s, the nostalgia factor is certainly there for me, but there also seems to be an overall draw for people to see places that were once bustling with life, but are now deserted and being reclaimed by nature. No, you're right, there's that whole creepy Walking Dead factor. Recently, two movie producers have written me wanting to use these for creepy horror movies coming up. People are kind of fascinated with abandoned photography in a sense and there is this kind of creepy apocalyptic feel to it.
That kind of photography really seems to have exploded in the past couple of years. More and more people seem to really want to go and photograph these abandoned and reclaimed places. As someone who has been doing it for a while, is it really expanding as much as it seems? Yeah, it is. When I came into it, the genre didn't really exist. It wasn't even called urban exploring, or urban spelunking, or UrbEx or anything like that. A lot of people cite my early work for helping to popularize it. One of the reasons was Instagram. I know a lot of photographers hate Instagram, but my whole point was to try and share these places with as many people as I could. I exploited every social media platform available to me, the goal was to share these images not to just take them.
Instagram routinely puts me on the "Explore" page of the app. A photo of mine will sit on there for 3-4 hours–sometimes up to 6 hours–and its show to millions of users world wide. I'll read the comments and see things like, "wow, oh my god, I've never seen this, I can't believe this is America." It's crazy to have Miley Cyrus or Rihanna liking your pictures.
Because of things like that, people write me all the time–especially younger people–wanting to do this. With the iPhone, everyone basically has a camera now, so they want to go do it, but it is very dangerous. I kind of feel responsible because so many things do happen. One of my biggest supporters was killed in 2013. She was inspired by my work and went overseas to visit these abandoned areas and she went missing. Unfortunately, she was murdered in Turkey. It is dangerous going into these parts, and I always tell people that. There are all sort of challenges and risks associated with taking photographs like this. It's a fascinating hobby, though, and a trend for sure.
Since it has gotten much more popular, has it gotten harder for you to find places that are sort of untapped? Not really. I think the more people that go to Detroit the more overdone it gets. That being said, is there any shortage of blight in this country? I don't believe so. I believe there are a lot of untapped area, and I work really hard and aggressively to find those areas. Later in 2014, I am moving towards the Deep South. I'm going to hit every state in the Bible Belt and I really want to focus more on the rural and get away from urban exploring. I think there is a story there that I want to tell.
Have you shifted your focus at all? I am branching out a little bit from abandoned photography, but I am not quite sure I'll ever break completely away from it. I do want to vary it up. There is a lot of redundancy right now in my opinion. People visit a place and they're shooting a camera like it's a machine gun, I mean their photographs come across very cold, and kind of uninspiring to me. I shoot digital of course, but I treat it like an analog camera. I am proud of my pictures. Sometimes you have to wait hours for the right light and I like it that way. I am more invested in my surroundings, not just running in and running out. I try to connect with the place. I try to get a feel for it. I really enjoy doing what I do.
It sounds like you shoot like a landscape photographer, which is a bit unexpected since some of these locations don't seem like places you want to hang around all day. There are times when it feels very risky. Other times, once you're in a place, you start to feel safe and working is easier. In some ways, it's a foolish thing to do, but I can't help myself. There are times when you might not have time even to set up a tripod. You're dealing with crazy lighting, and dust and debris. There are all sorts of challenges.
You have always made the message behind your work rather clear, but now that there's so much "ruin porn" out there that's done purely for the aesthetic, do you feel that message getting lost a bit? The whole goal was to show Americans a different side of the country. To try to show America what was happening to their country from the comfort of their suburban homes and smart phones. A lot of people are living in the suburbs–in a bubble. They don't go to these areas of the country, they don't know they exist, so I want to show them.
A lot of these areas might look abandoned but they are inhabited by some of the poorest and most disenfranchised Americans in this country. I thought it was such a waste not to show it. Honestly, I don't think the problems we have as a country will change unless we face them. We need to start by simply looking at them. I knew if I portrayed the images creatively enough, it could have a very deep impact on the viewer, and it did. I got attacked by the right wing conservatives for showing our country as vulnerable and weak. I was attacked by the left, who said my work was some what exploitive. Everyone had an opinion.
Do you like that level of interaction? I can watch the constructive dialogue open up on my Facebook fan pages and many of these social media platforms. If a photography is able to make you feel something, then it's art, and I really feel that art is much too powerful not to fully engage in, even exploit it, if it means the betterment of humanity. If you can can promote some sort of activism or change, then why not do it? That's always been the goal and that's gonna continue being my goal moving forward.
Some people see it as a novelty. I'm trying to maintain the message.
How do you respond to people who view this kind of photography is inherently exploitive? A lot of people do think it's exploitive. You really can't blame them. You have people coming at you from all over going into areas like Detroit to take pictures. They are driving in and driving out, so it's not like they are coming into the city and spending money. It shouldn't be seen as some kind of attraction. David Bing, the old mayor, came out and said, "I'm just sick of people coming in taking pictures that show the bad parts of Detroit." I can relate to that. That's why, in addition to the photography, I'm always working with organizations like feedthechildren.org or whatever it might be to help these areas. We should be giving back.
As part of the malls project, I have been working with the Ohio Food Banks. What we are going to do is go out to a few of the thriving suburban malls that still exist beyond the Cleveland suburbs and we're going to set up kiosks and sell my prints. 100% of the proceeds are going to go straight to the Ohio Food Bank to help these depleted areas. You have people walking around in a thriving mall now, shopping with their hands full of merchandise and they are going to come across the photographs that will hopefully shock them a little.
We've talked a lot about social media. Do you think the onslaught of images we see on social media every day has fundamentally changed the way we, as people, interact with photos? Oh, absolutely. There was no way to share photos like we can now and it's really changed the whole spectrum. Anyone with an iPhone is a photographer now. There's nothing wrong with that, and there is plenty of great talent out there. I started shooting before we even had computers, so it has been fascinating to watch the transition. What time are we living in when someone like me could have a global reach like that? It's phenomenal and it goes to show you how powerful and profound social media has become. I mean look at the potential there, look at how many people are into photography that never were before. It exploded, and you can attribute that to social media, without a doubt.
You operate under a pseudonym and try to remain relatively anonymous. How has that worked out for you? I am a private guy, so I started it for that reason alone. Obviously, I didn't start thinking, oh my god I'm going to have people wanting interviews from different parts of the world or whatever. It was more so to allow me to perform my work in these projects more effectively. It starts from the very earliest graffiti artists. Are they breaking the law to some degree? Yes. Is it art? Yes. I"m not hiding my face in public or anything. I don't take it to extremes.
It also seems a bit like a precautionary measure. Yeah, if police stop me from leaving an abandoned building, I'll more than likely to get a warning. Had they known lets say my real name was Seph Lawless, I'd be getting arrested.. Then there's a personal thing where people do find it exploitive. I have friends that sit on both sides of what I do and I don't want it to be an issue. I'm just a private person, I suppose.
See more of Seph Lawless' work here.