Instagram Takeover: Christopher Logan at New York's First Men's Fashion Week
A fashion photographer takes on NYFWM using only analog Lomography gear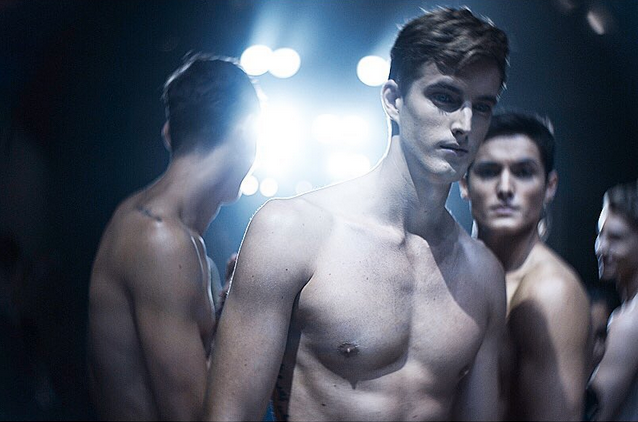 This week in New York, the CFDA kicked off the inaugural New York Fashion Week: Men's—a four day event dedicated entirely to menswear. Although the week's shows were admittedly calm compared to the chaos that is NYFW's fall events, we were intrigued to see what was going on behind-the-scenes at this batch of shows, especially when we learned that Christopher Logan would be shooting everything with analog gear from Lomography. Since Monday, Logan has been sharing work made with a pair of Petzval lenses on the @AmericanPhotoMag Instagram feed. Here, he talks about what it takes to cover NYFW and why he loves shooting with Lomo gear.
How did you get started photographing fashion in New York?
I believe this is my fifth season shooting NYFW. I moved up to New York roughly four years ago from Miami. Many of my friends had already transitioned up to New York, so I was able to have a circle of support when I arrived. I began working with several modeling agencies and collaborating with fashion PR firms in the city, shooting model tests and lookbooks. That quickly elevated to campaigns for designers and fashion editorials. I spend a lot of time meeting people face to face and talking on the phone. I've only been here a handful of years, but I've met wonderful professionals and artists.
What sort of planning goes into shooting during NYFW?
There is a lot of emails, requesting for shows, researching, talking to publicists, and fashion PR firms, and also pitching. My team and I typically begin researching and requesting about a month prior—having an outlet to shoot for is super important for the elevation of the shows that you are accepted into. Once that's locked in, keeping a daily calendar is essential—especially during the women's shows. There are so many events going on at the same time, you need to prioritize which ones to cover first. The work that is completed beforehand is the most time consuming and rigorous.
Once you are at a show what kind of moments are you looking for?
If there is a circle of photographers shooting one thing, you can find me across the room finding my shot. I love to capture the offbeat, funny, and sometime dark moments backstage. Rather then getting 200 photos per show backstage, I may only capture a small handful and that is all I need.
This is the first year of NYFWM—how has it been for you? Has coverage been different then what you've done during NYFW in the fall?
Since this is the inaugural season it has a much more relaxed atmosphere. The shows in fall have intensity the moment you walk in the door—hair and makeup people running around, publicists galore, press, photographers, stylists. People are in a frenzy to beat to clock, to be sure everyone is set and ready to hit catwalk before showtime.
This year you've been shooting exclusively with gear from Lomography—what appeals to you about using analog gear?
I grew up using analog cameras, so my connection with Lomography comes naturally. I think not getting an immediate result actually focuses me more on the work. I'm trying to get one to three beautiful shots vs. 1000k in an hour. It's a daily reminder of why I fell in love with photography.
The work you've been sharing on our Instagram feed this week was shot with two Petzval lenses—the original 85 and the new 58—how has it been working with this gear?
I fell in love with the Petzval the moment I saw it. A lot of my my personal and fashion imagery has a dream like and cinematic quality and the Petzval elevated my work. I relate to it much more deeply. Working with the 85mm Petzval last season actually opened up a lot of doors for me. People backstage like designers, models, publicists, and other photographers wondered what the heck I was doing with a golden lens. It opened a lot of conversations that I wouldn't have otherwise had.
What were some of your favorite shows you covered during the week?
Two of my favorite events have been the David Hart NYC presentation. The art direction and styling is always on point and the energy is fun! Another one of my favorites has been the Kenneth Ning presentation, the looks had bold prints, a bright color palette and some of the models had lace hooded masks, which was pretty wild.
What advice would you give to a photographer trying to break into the world of New York fashion photography?
Start by networking: make appointments with design houses, fashion PR firms, modeling agencies and make friends with creatives. Also have gratitude and say thank you. I was raised in the South and countless times I've heard from clients that they were surprised by how friendly I am. That is the strongest advice I can give—have good manners and patience.
Why is Instagram a good tool for covering a NYFW event?
I can't think of another medium that can reach such a direct market in seconds. The ability to target who you want to see your images by using specific hashtags and by tagging is something I take full advantage of. It's a way to show the world your work, and an invaluable tool to promote yourself to brands and to prospective clients.
What are some of your favorite accounts to follow right now?
@fashionphotographyappreciation is one of my favorites, they showcase the most beautiful fashion imagery from around the world. @michael_the_III  is an illustrator and a self described selfie extremist—his work is alway fab, sexy, and peppered with camp. I'm really into barbershop culture and @inthecut305 is dedicated to Hamlet a bad ass Cuban barber in Miami, it's a source for men's hair inspiration. @colbymakeup is a makeup artist I work with, his work is always fresh and fun and I live vicariously through his adventures doing makeup for all the hottest pop stars. @tmagazine is a my go-to for culture, style and design. The images are always strong and beautiful.