Hunter S. Thompson's 1962 Pitch to Pop Photo on "The Virtues of American Photography"
One of the lesser-known facts about the life author Hunter S. Thompson—now a mythical, nearly cartoonish figure—is his longstanding relationship...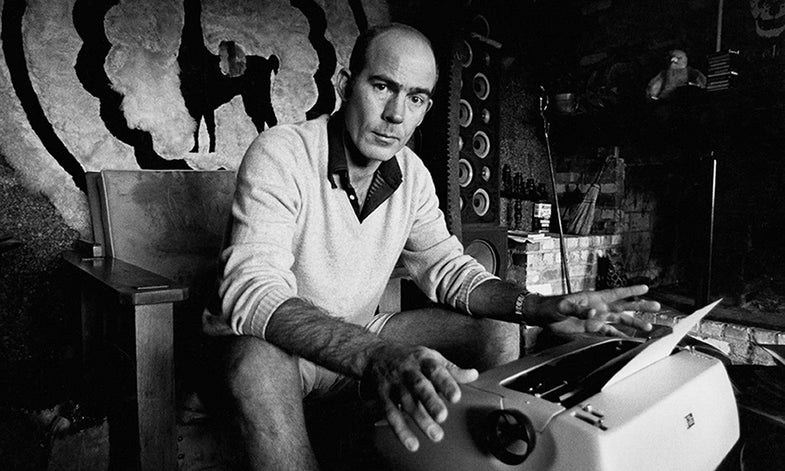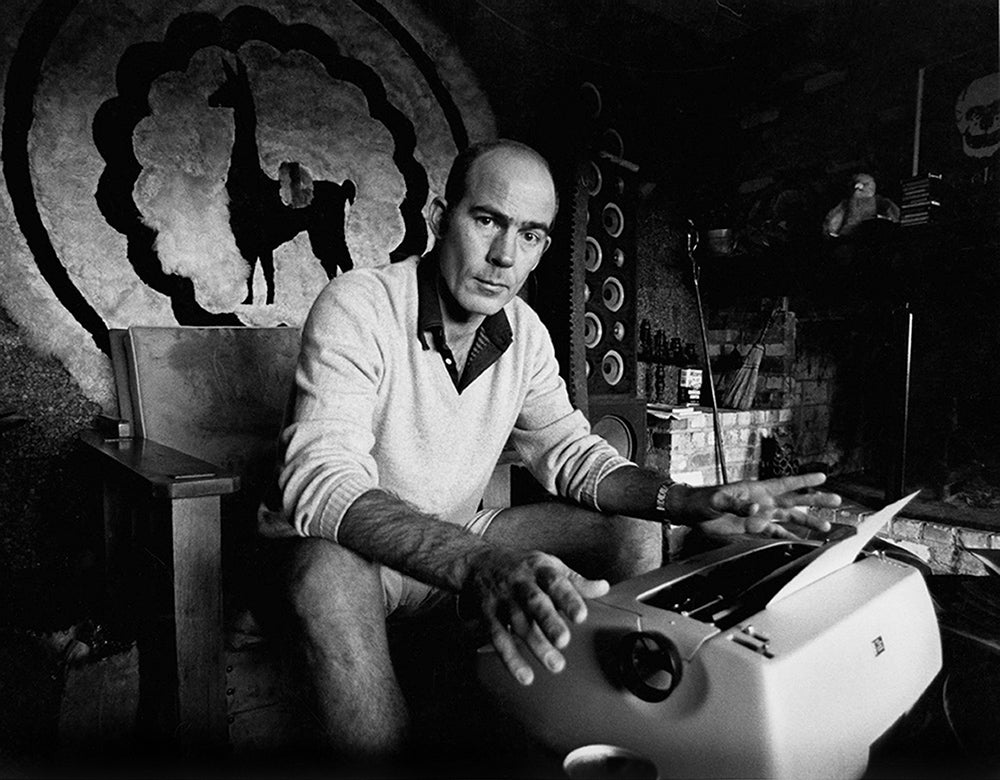 Hunter S. Thompson
Hunter S. Thompson sits at his typewriter at his ranch near Aspen Colorado, c. 1976.
One of the lesser-known facts about the life author Hunter S. Thompson—now a mythical, nearly cartoonish figure—is his longstanding relationship with the camera. Throughout his early travels and magazine assignments, Thompson would have a medium format twin-lens Yashica-Mat in tow, often "just for the hell of it," and often to illustrate his own articles. For one of his first major longform stories about a year spent embedded with the Hell's Angels motorcycle gang, he even used the camera as a kind of crutch of access. The outlaws came to accept his presence as the dopey photographer, limited in the kind of harmful exposure that a writer might bring, and probably more likely to flatter through imagery. The photos he made working on that story are among his most widely reproduced and exhibited, along with some revealing, albeit amateurish self-portraits from his younger days.
The more interesting angle exploring his life in photography, as a writer after all, might be through his thinking on the medium rather than the actual images he made out of passion. Before having really established his big name byline, Thompson had written a sober and earnest pitch letter to James Zanutto, then Features Editor of Pop Photo magazine, on "snapshooting," and "the virtues of American photography." Dated Feb. 26, 1962, the pitch appears in a recently reissued collection of his letters, The Proud Highway: Saga of a Desperate Southern Gentleman.
"When photography gets so technical as to intimidate people, the element of simple enjoyment is bound to suffer," Thompson writes, highlighting his main argument. "Any man who can see what he wants to get on film will usually find some way to get it; and a man who thinks his equipment is going to see for him is not going to get much of anything."
In repeated mention of the photographers' "inferiority complex," Thompson recalls his experience when he first arrived in New York, mingled with photographers, and started reading Pop Photo. "I found myself running in circles, going from one camera store to the next, promising them all that I'd come back the next day and buy a complete outfit. Meanwhile, I zipped my [inexpensive, seemingly inferior] camera into a suitcase and stopped taking pictures altogether."
Photography was at the time just starting to creep into museums and galleries, with a growing emphasis in the industry on craft, polish, and the perfect print. Thompson pushed against this theory, writing, "snapshooting is not, by definition, a low and ignorant art." He cites Cartier-Bresson and Walker Evans, as well as the eventual pleasure and even income (for lab expenses) he finally learned to derive from his own images, which nonetheless have "something technically wrong with every one of them."
"It may be that my thesis will rub some of your high-priced advertisers the wrong way," he concludes, "but I doubt it." That last doubt he may have been wrong on, as the magazine never seemed to have commissioned the article, but his argument extolling the image over the object, the visual power of a photo over the circumstance of its genesis, still rings true after all these decades today.
Read Thompson's pitch letter in its entirety here.