Hands On: Leica T
Beware the stares—the new Leica T draws admirers at first sight. When I borrowed one of these silvery beauties from...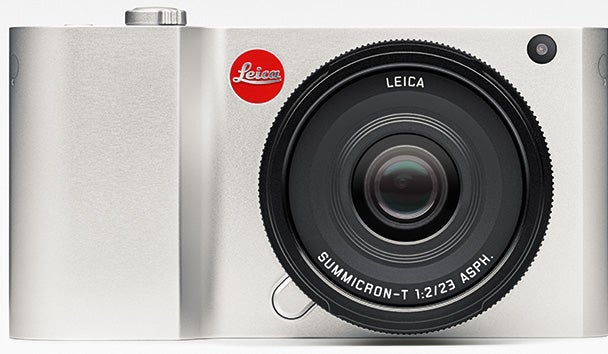 Beware the stares—the new Leica T draws admirers at first sight. When I borrowed one of these silvery beauties from Leica to try out for a few hours at the Palm Springs Photo Festival and around this California desert town, strangers even asked to take my picture with it.
The T (Type 701) is Leica's first true interchangeable-lens compact digital camera, with a 16.3-megapixel APS-C-sized CMOS sensor and lenses and accessories to match. Not just autofocus, finally, but HD video and Wi-Fi (with a smartphone app for remote camera control and viewing) are built in—features that are de rigeur in other ILCs but still fairly new to Leica. In an unusual touch, the T has 16 gigabytes of internal memory should photographers run out of SD card space.
As conceived by Audi Design, the T's body is milled from a single block of aluminum in either silver or black, then hand-polished into a sleek object of desire (Leica chronicled the process in a 45-minute real-time promotional video). Minimally marked dials and buttons provide just enough physical control. The 3.7-inch fixed touchscreen LCD displays an icon-based control menu system that I found incredibly easy to learn and customize.
At launch, the T-System's native optical choices number precisely two: the 23mm f/2 Summicron-T ASPH (about a 35mm full-frame equivalent) and the 18–56mm (27–84mm equivalent) f/3.5–5.6 Vario-Elmar-T ASPH, both with autofocus; others are promised for 2015. But the new M-Adapter T will let photographers mount any of the numerous manual-focus lenses in the M-System 35mm rangefinder to this smaller body.
While the new lenses and adapter seem utilitarian, the T's accessories are far more stylish. Neck and wrist straps come in a silicone blend that grips well without digging into skin; they latch onto the camera body using an innovative, tightly locking pin system. In yellow, orange, black, or white, the straps match a "T-Snap" skin for the front of the body that fastens to a gray plastic top, back, and bottom "T-Flap." It's a cool way to protect not just the camera but the hand. (Without it, after a few hours of carrying the camera, ready to shoot, my pinky developed a little dent where the sharp bottom edge of the grip poked into it.)
I was less impressed by the Visoflex accessory electronic viewfinder, which I found a little slow and grainy. But that's the only option other than the LCD, so finder users will have to make do.
As for the images, without shooting in controlled conditions with final firmware, it's hard to tell. I'm looking forward to getting a Leica T into the Popular Photography Test Lab for a true assessment of its performance.
Noteworthy Specs:
SENSOR: 16.3MP (effective) APS-C-format CMOS
SENSITIVITY: ISO 100–12,500
AUTOFOCUS: TTL contrast-detect
SHUTTER: 1/4000–30 sec
MEMORY:16GB internal; single SD/SDHC/SDXC card slot
VIEWFINDER: Optional EVF
BURSTS: 5 fps up to 12 shots at constant velocity; after that depends on the memory card
LCD: Fixed 3.7-inch TFT LCD touchscreen with 1.3 million-dot resolution
DIMENSIONS: 5.3 x 2.7 x 1.3 in. (134 x 69 x 33 mm)
WEIGHT: 13.5 oz (384 g) with battery
BUY IT: $1,850 body only; plus $1,750 for 18–56mm f/3.5–5.6 Vario-Elmar-T ASPH, $1,950 for 23mm f/2 Summicron-T ASPH lens; en.leica-camera.com