Guillermo Cervera: A 300 Mile Conversation About War
Restless by nature, Guillermo Cervera took to photography for its calming effect. "For me photography is like therapy," he tells...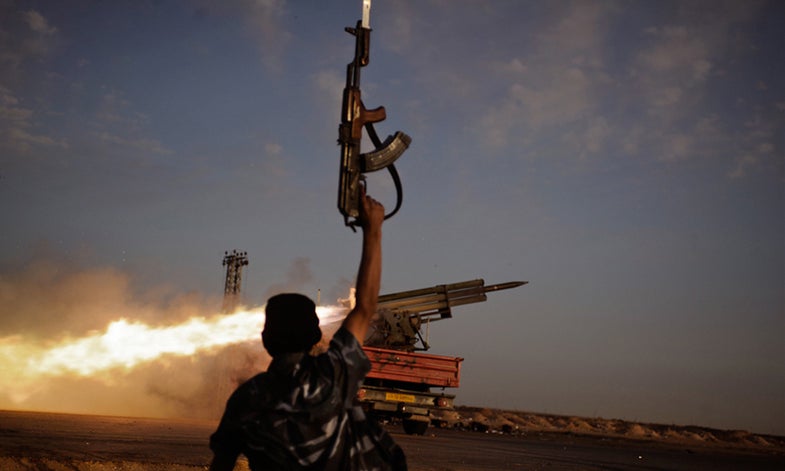 Restless by nature, Guillermo Cervera took to photography for its calming effect.
"For me photography is like therapy," he tells American Photo. "When I'm with a camera, I'm not thinking about anything else. I'm just focusing and looking around me to see what's going on. It's the same whether I'm in the combat zone or in the streets of a city like New York."
Over the last two decades, the 46-year-old freelance photojournalist from Madrid has covered major conflicts from Bosnia, Afghanistan, and the Arab Spring to, more recently, Gaza and Ukraine. In between uprisings, he would focus his time on personal work and photograph from the choppy waters of top surfing destinations. A broad retrospective opens today at Anastasia Photo, his first solo exhibition in New York, nearly half of which is dedicated to his most recent work from the U.S. He photographed walking the train tracks from Washington D.C. to New York City alongside journalist and filmmaker Sebastian Junger and two Afghanistan combat veterans that starred in Junger's highly acclaimed 2010 documentary film, Restrepo.
Their "300 mile conversation about war," as Junger calls it, is the subject of his new followup film, The Last Patrol, which debuts on HBO next month. Junger approached Cervera to appear in the documentary because he was with Restrepo co-director Tim Hetherington and photojournalist Chris Hondros when they were killed in the Libyan uprising in 2011. Cervera was the one photographer in the group of five, which also included Michael Christopher Brown and Guy Martin, who left uninjured that day.
In the film, over the course of their stealthy [extralegal] interstate journey, they share war stories and prod what it is that motivates one to go to the combat zone, to "go through the worst experience imaginable," and to miss it upon return, ultimately to go back. All the while they "get to know America again."
"Railroad lines go straight through the middle of everything," Junger told the Washington Post in June. "It goes right through ghettos, and right through wealthy suburbs, and right through industry and farms. It skewers everything, and you really see America from the inside out."
Cervera says from his experience: "War is all over, you don't have to go to Afghanistan."
In the U.S., he found an internalized, social war, driven by income inequality, unemployment, and a lack of resources for the mentally ill.
"The image of American from outside," the Spanish-born photographer says, "is that it's this amazing country; everyone wants to go to America. When you come here and realize the reality, it's shocking."
His eye for telling gestures, decisive moments and even compositional humor at times that conveys this shock, is apparent across all the his photographs currently on view, whether they were made in Cairo, Kabul or Chester, PA.
"Wherever I go, I shoot the same," he says. "It's an internal thing, it's related with what attracted you as a kid, it's related with your soul."
Guillermo Cervera's first solo exhibition in New York is on view at Anastasia Photo from Oct. 24, 2014 – Jan. 4, 2015.
The Last Patrol, directed by Sebastian Junger, premiers on HBO on Nov. 10, 2014.