The Future of Photography Is Alive and Well in Tokyo
A couple of months ago, I walked into Totem Pole Photo Gallery, a small photography space in Tokyo. Tucked away...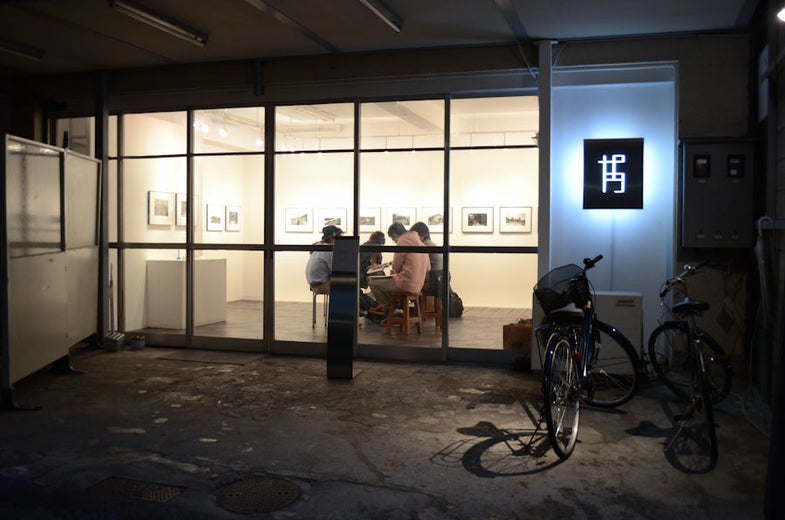 A couple of months ago, I walked into Totem Pole Photo Gallery, a small photography space in Tokyo. Tucked away in a side street about 20 minutes away from the city's bustling Shinjuku district, Totem Pole is a comfortable space, with floor-to-ceiling windows that overlook a small park. This gallery, and the people around it, illustrate everything that makes Tokyo an exceptional city for photography: it's one of the many non-commercial, independent spaces for photography here which also functions as a kind of community center. While photographers in the West are pushed towards a cutthroat gallery system, Tokyo offers its photographers plenty of opportunities to show and develop their work at their own pace.
Walking into Totem Pole feels more like a gathering of friends than entering the chilly white cube of a gallery. I was there not just to see photos, but primarily to say hello to the two photographers who were putting on the exhibit. But before getting to them, an American visitor practically pulled me aside and said in excited tones: "they don't know how good they have it!" I couldn't agree more.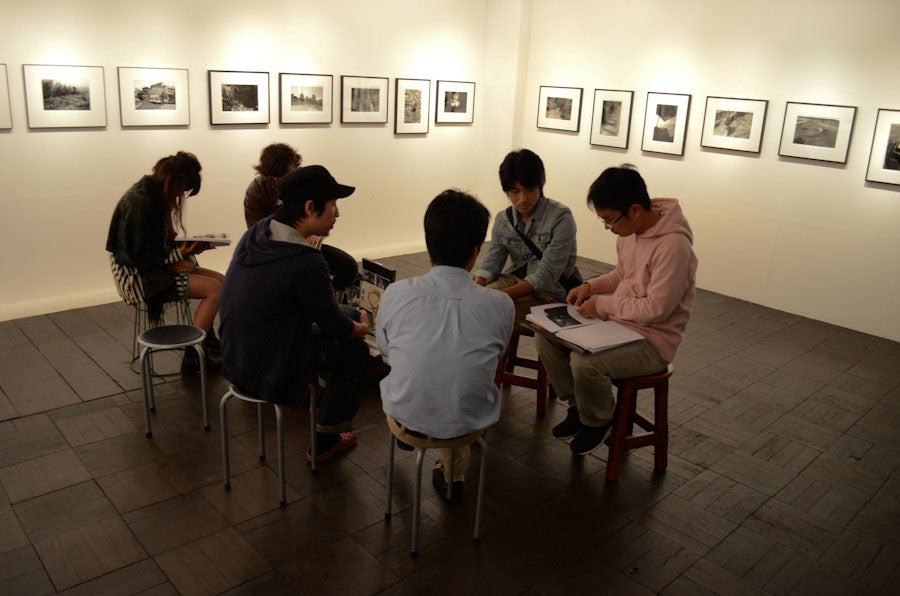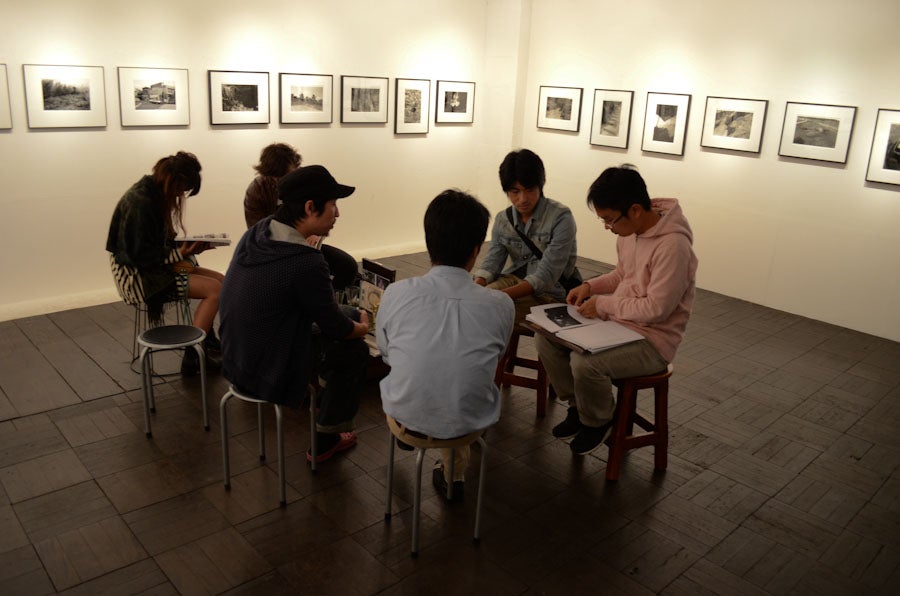 A typical scene at Totem Pole
* * *
As a foreigner, I've had a wonderful time exploring what Tokyo has to offer–and being a foreigner has certainly helped. Before I moved here in the beginning of 2009, I'd read that you should always have a business card with you in case you meet someone new. Not really knowing what to produce, I made some Moo cards that said "I like photography," written in Japanese that I'd hastily copied from the internet. They were intentionally goofy, but I could hardly speak any Japanese at the time, and I wanted to see what kind of reaction this pure statement would get. Would anyone take me seriously? I'd been interested enough to move to Tokyo because of its photography community, and this was going to be my first real contact. In a way, the card was a test of Tokyo's attitude, and it went better than I could have guessed.
On the other side of the spectrum from Totem Pole is Tosei-sha, a commercial gallery and photo book publisher near Nakano. I found Tosei-sha totally by chance: I'd just gotten a bike, and I was riding through some back streets when I saw a sign that looked like it had a photograph on it and stopped to check it out. Luckily, someone who spoke excellent English was working there, and after we talked for a while she introduced me to Takahashi-san, the head of the gallery. They each got Moo cards, and laughed a little, but in a friendly way.
When I came back the next month, Takahashi-san remembered me, and invited me to a more or less private reception happening later that evening. I was introduced there to Kazuo Kitai, a photographer whose early books documenting Japan's student-led protests in the 1960s now sell for thousands of dollars. I'd never heard of him. "He's very famous," someone whispered to me. I nodded dumbly.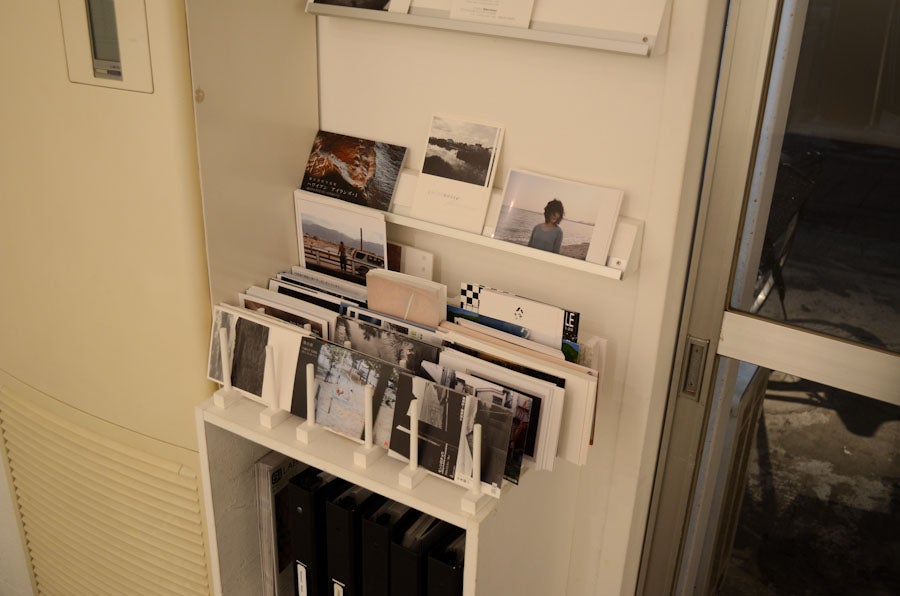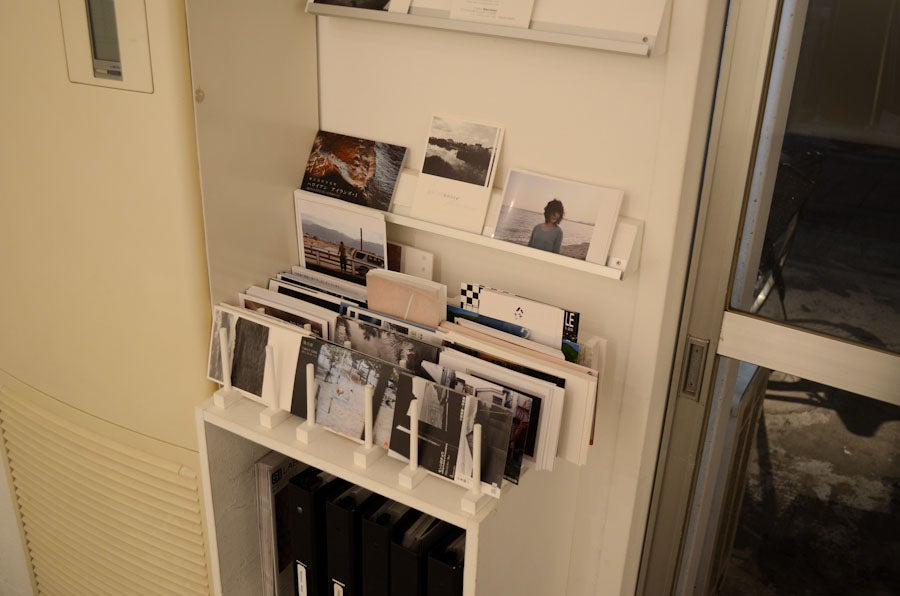 Flyers left for other exhibitions
Later that night, Takahashi-san asked for my phone number, and one day not long afterwards as I was walking out of the subway, he called. "Are you busy tonight?", he asked straight away. "I guess not," I said. "OK, let's meet outside of Kinokuniya in Shinjuku at 7, then." I had no choice: I was going on a date with an old Japanese man. We went to Tokyo's infamous photography bar, Kodoji, and made what conversation we could. Being a foreigner was a big help in having Takahashi-san take me in, but it still shows how well Tokyo responds to a simple passion for photography. When Takahashi-san asked me what photographers I liked, I said that the show up at Totem Pole, by a photographer named Emi Fukuyama, was very good. He pulled out his cell phone, rang Emi up, and after not much more than a quick hello, slid the phone over to me.
* * *
Tokyo has an incredible structure to support photographers who are passionate about their work, but not yet professionals–in short, someone like Emi. Totem Pole is run by a group of members who all pitch in to pay the rent, and make decisions together about the gallery. There are at least 5 or 6 other galleries which operate in a similar way. Totem Pole used to have six members, but it's now expanded to eight, including its first non-Japanese member, Nebraskan John Sypal. As they produce new work, members can use the space to hold a show, usually for one or sometimes two weeks. The gallery also rents the space out for a week at a time, so anyone can get themselves a show by putting down some money. (The standard rate for renting a Tokyo gallery is about $1,000 a week, which is not at all cheap. But I guess that depends on how much value you place on gaining independence from a commercial gallery system). Each gallery has some selection process, but its typically an organic decision, done without much, if any consideration for the work's commercial appeal. Unlike in New York, Tokyo's large galleries don't wield so much power over photographers, who are more likely to fret over which company will or won't be publishing their book.
Of course, everyone who participates in member galleries like Totem Pole has their own goals, whether it's to have a bigger show, make a photo book, or go pro. Over the past few years, Emi has been particularly ambitious in pushing her work. In 2009, she spent a month traveling around Europe, including a visit to Rencontres d'Arles, a major photography event held every summer in France. At the end of 2010, she published a hardcover book of her work through Tosei-sha with Takahashi-san. This year, she went back to Europe twice, to visit the Kassel Photo Book Festival, and then again to Paris Photo. Late last year, she released a small volume of her photos from that first trip to Europe (full disclosure: I published it), and in just a couple of months she'll publish another small book with oodee, a well-regarded publisher from London.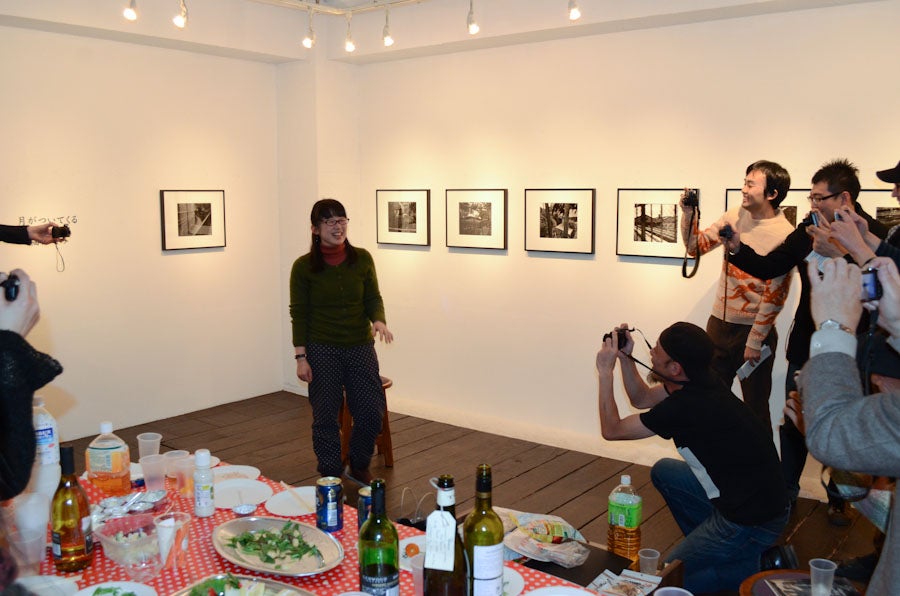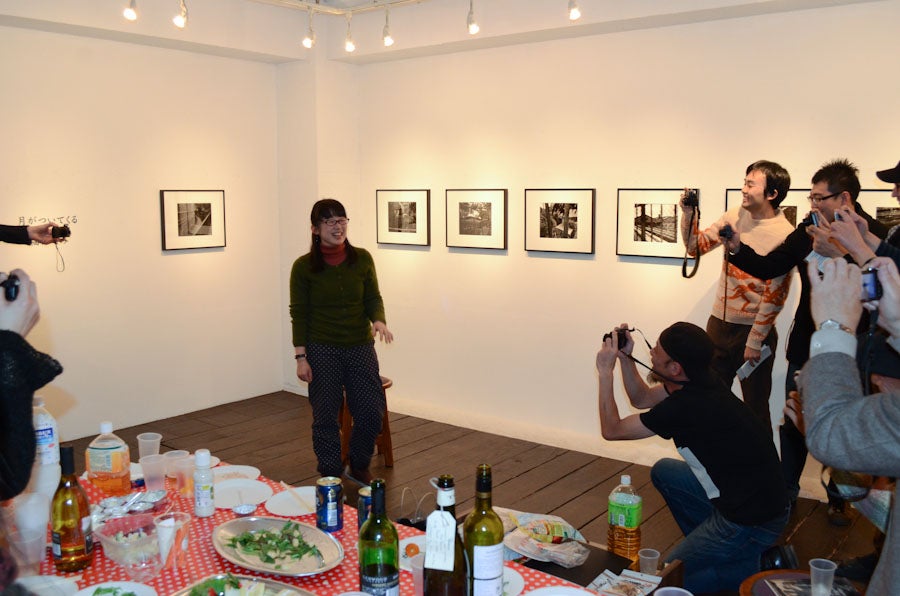 Emi Fukuyama's closing party at Totem Pole
Perhaps, then, it's not so surprising that Emi will leave Totem Pole; she held her final show at the end of last year. She's had the time and space to develop one phase of her work, which she will soon have published in three different books. She's been able to do everything without the support of a traditional gallery, but with the platform that Totem Pole could provide.
"They don't know how good they have it," indeed.
Links:
Dan Abbe is a writer and photographer working in Tokyo. He writes a blog about Japanese photography, Street Level Japan. On Twitter he's @d_abbe.