Exploring the Critical Issues Facing Photojournalists Today
The five most inspiring takeaways from Reuters and ICP's #IconicInstant Event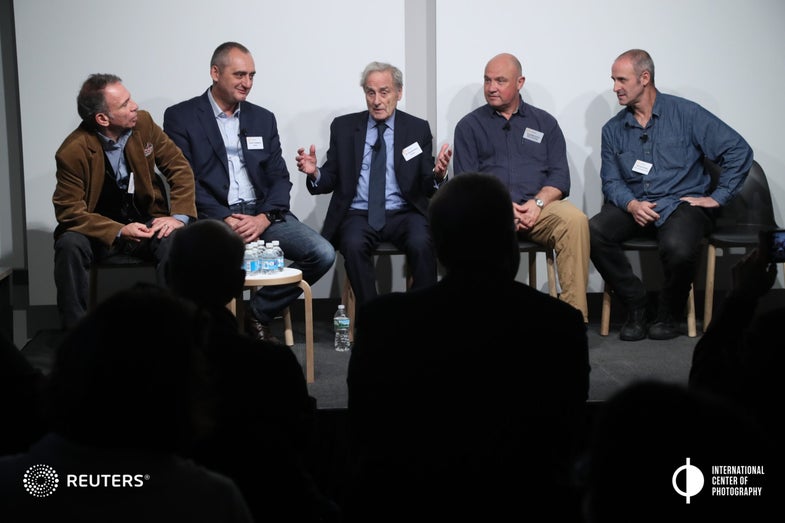 On Monday afternoon the International Center of Photography and Reuters hosted 'Iconic in an Instant? One Trillion Images' which brought Pulitzer Prize-winning photographers and photo editors together to discuss the media landscape and the critical issues facing photojournalism today.
In an age where everyone has a camera in their pocket and the images that are seared into into the public's minds are often being shared as memes or captured by non-professionals, it's an important time to pause and take a moment to process what's going on.
"Some of the events this year have been so traumatic that words have failed," Steve Adler, Reuters Editor-in-Chief, told the crowd in his opening remarks. "But pictures don't."
The half-day event covered a wide variety of subjects: the rise of citizen photojournalism, the ethics of image sourcing, how iconic images are made and the ethics of conflict photography.
These were some of the highlights from the day:
Photojournalist Jonathan Bachman In-Conversation with Ieshia Evans

You may not know Ieshia Evans, but you've certainly seen the iconic image of her facing off with police during a protest in Baton Rouge. Jonathan Bachman met his photographic subject for the very first time on Monday and the two discussed the events of that day. Surprisingly, this was the first protest that Bachman had ever covered for Reuters, although he compared it to a bit like shooting a football game. He said he heard someone in the crowd yell "you don't want to stand there, they are arresting people in the street," turned with his camera and captured a few frames of Evans before she was taken into custody.
"I only had one card in my camera," Bachman said. "I had to turn the frame rate down."
Evans said she had no idea she was being photographed that day and it took a while for her to realize that the image has become an iconic one. "I don't feel like the woman in the photo," she said.
Sir Harold Evans, Editor-at-Large of Reuters, on the Vocabulary of Photojournalism
Sir Harold Evans dug into what it actually means to call something a great photograph and questioned if the idea of the decisive moment is even still relevant and how truth and photography are related.
"With all photography we ache for confirmation," he said. "The camera does not lie, but it can be an accessory to untruth."
He invited Gail Buckland to the stage to further explore the idea. "The decisive moment is a moment that embeds in the brain," she said.
She went on to explain how the Chicago Tribune cover of The Cubs winning the World Series was an example of one of those moments. "That picture has the same feeling as the Men Raising the Flag on Iwo Jima by Rosenthal," she said.
Bronx Documentary Center Co-Founder Danielle Jackson on the Rise of Citizen Journalism
Using last summer's Bronx Documentary Exhibition, New Documents, as a jumping off point Jackson made the argument that although there are trillions of images being sent into the world, these pictures are reaching very small pockets. "Not everyone is seeing the same stuff. People are seeing things in silos," she told the crowd.
According to Jackson, the so-called "alt-right," a political moment that combines aspects of racism, white nationalism and populism, have utilized visual communication very effectively—especially when it comes to misappropriating images, which fake news sites then legitimize.
Our visual vocabulary is changing and we need to find new aways to reach more people.
The Role of a Photo Editor in the Digital Age

This five-person panel brought together David Furst, Kira Pollack, Rickey Rogers, Alan Taylor and Wajmah Yaqubi to speak at length with Adrees Latif on the changing, but crucial role of photojournalists in today's world.
"An editor used to pick a picture and propel it into the world," David Furst, International Photo Editor of The New York Times said. "Now the audience decides what is propelled."
Yaqubi, who works as the Global Photo Director at Buzzfeed added that it's impossible as an editor to make something go viral. She used Buzzfeed's blue dress post as an example. What started as a simple one-question poll on their site turned into an internet sensation in just a few hours. "No one had any clue that would happen," she says.
Although the idea of getting an image "above the fold" is a little outdated, all the editors seemed to agree that photographers still fight for the top spot on mobile. Pollack of Time mentioned that she not only serves as the photo editor for the website, but is also in charge of final approval for anything that is posted on Time's various social media channels.
"Our resources are going to making new work and contextualizing the work," she added.
Conflict Photography Panel
Perhaps the most moving panel of the day, Sir Harold Evans moderated a conversation between Yannis Behrakis, Michael Kamber, Greg Sebastian Marinovich and Goran Tomasevic about their personal experiences as combat photographers and the undeniable emotional and physical toll the work takes.
"Danger is part of the job, but it's not the most important part," Behrakis said to the crowd.
As the four photographers shared their experiences a slideshow of their work played in the background. Tomasevic spoke of the difficulty of covering the war in his own country of Serbia. Marinovich discussed the sometimes problematic relationship between photojournalism and truth, in regards to the Pulitzer-Prize winning image of a vulture and a starving Sudanese child taken by his friend and colleague Kevin Carter. "In this case we imagine so much," Marinovich says. "That is the problem with photography, the implication."
Michael Kamber spoke about the important of context and his lengthy experience covering the Iraq. "I grew up with Vietnam and those images changed my life and my country," he said. "This was our chance to go out and set the record down. This was my generation's Vietnam."