Dispatch from the Borderland on the Eve of Scotland's Vote
"This quiet landscape is famous for a lively and lawless past," writes Sarah Saey describing the somewhat strange, semi-autonomous, fog-shrouded … Continued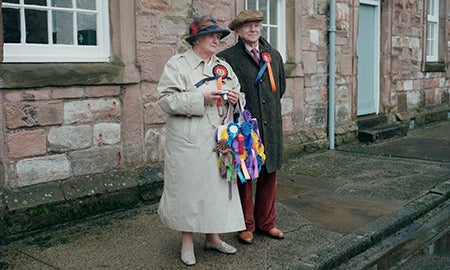 "This quiet landscape is famous for a lively and lawless past," writes Sarah Saey describing the somewhat strange, semi-autonomous, fog-shrouded region of the North English borderlands, which is largely codependent on the adjacent Scotland. She and London-based portrait and documentary photographer Jo Metson Scott have been driving along the porous English-Scottish border recently, creating a multifaceted document of the region at an intensely pivotal moment in its history. By tomorrow morning, the votes will be tallied on whether or not the citizens of Scotland, who cast ballots today, have decided to secede from the United Kingdom and break their 300-year-old union with England.
Working in a similar method as Alec Soth and Brad Zellar (who produce the itinerant newspaper LBM Dispatch) the duo gathered first-hand accounts of life in the region where few residents seem steadfastly partisan one way or the other, just weary of the disruption they anticipate to their lives which are so intertwined with their nearby neighbors'. Scott's muted colors and restrained compositions beautifully capture the alternatively quirky and somber place.
See the entire project, which was first featured on TIME LightBox, at www.theborderland.co.uk and view more of the photographer's work here.