Behind the Notes: Ben Roberts' Beachside Mural
Name: Ben Roberts Description of image: **A mural of a wave, painted on the side of a building **Notes: 65,078...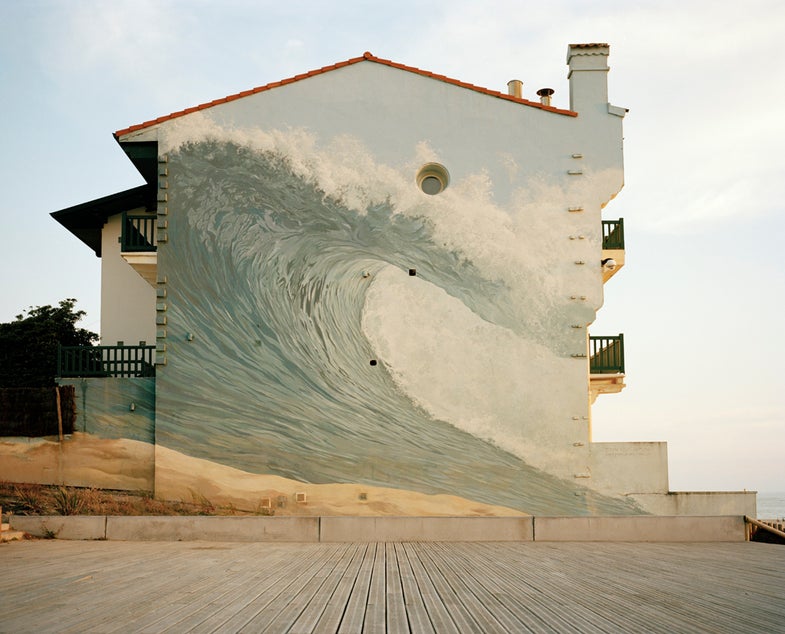 Name: Ben Roberts
Description of image: **A mural of a wave, painted on the side of a building
**Notes: 65,078 at time of posting (includes notes collected from two separate Tumblrs)
Originally posted to: FASHION FEVER, jesuisperdu
Impression cloud of rebloggers: Was it the ocean air wafting through this image? Rebloggers this time were much naughtier than usual, and that's without linking the NSFW blogs. A sequenced gif of a waffle getting dipped in chocolate (and so much more [very safe for work]) deserves a special mention, although keep in mind that this site plays music automatically when you open it. I feel so dated typing that out as a warning!
When I set out to write Behind the Notes, I imagined that it would basically be a good thing if someone's photograph was spread widely through the site. I even thought that it wouldn't be difficult to find a few stories of people who had been "discovered" for commercial work through Tumblr. These days, that seems like a long-gone fantasy, and Ben Roberts' account of his viral fame suggests that it caused him more trouble than good. Roberts is a professional photographer, and his shot of a mural in Southern France, taken on assignment, has been picked up not just by Tumblr blogs, but by Facebook pages which generated another bushel (10,000+) of likes. It made it onto the Failblog (for whatever internet cred that adds, or doesn't) and completely monopolizes the Google Image search results for the query "cool art graffiti." Yet, despite all that, it didn't do anything for Roberts—perhaps because the lax standards of internet attribution meant that no one credited him. It's not a little bit ironic that Roberts, a professional shooter, and Sunanda Carmela, the 14-year-old whiz kid we featured last week, share the same complaint about Tumblr. To put it in Sunanda's words: "I wish people paid more attention to the photographer behind the shot so I could get a little recognition but such is life."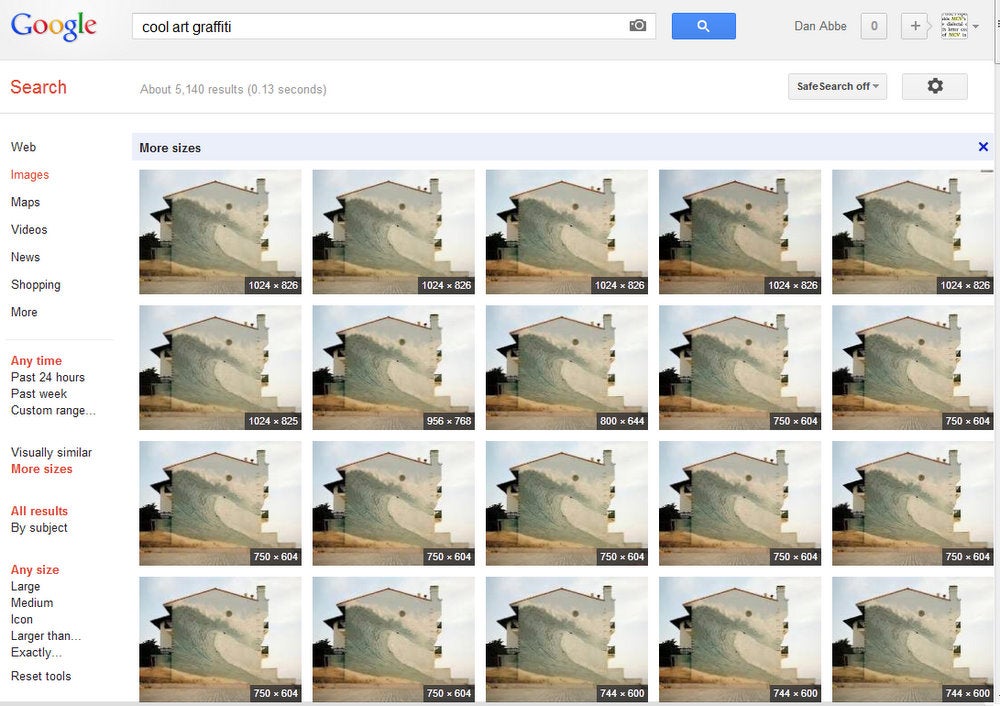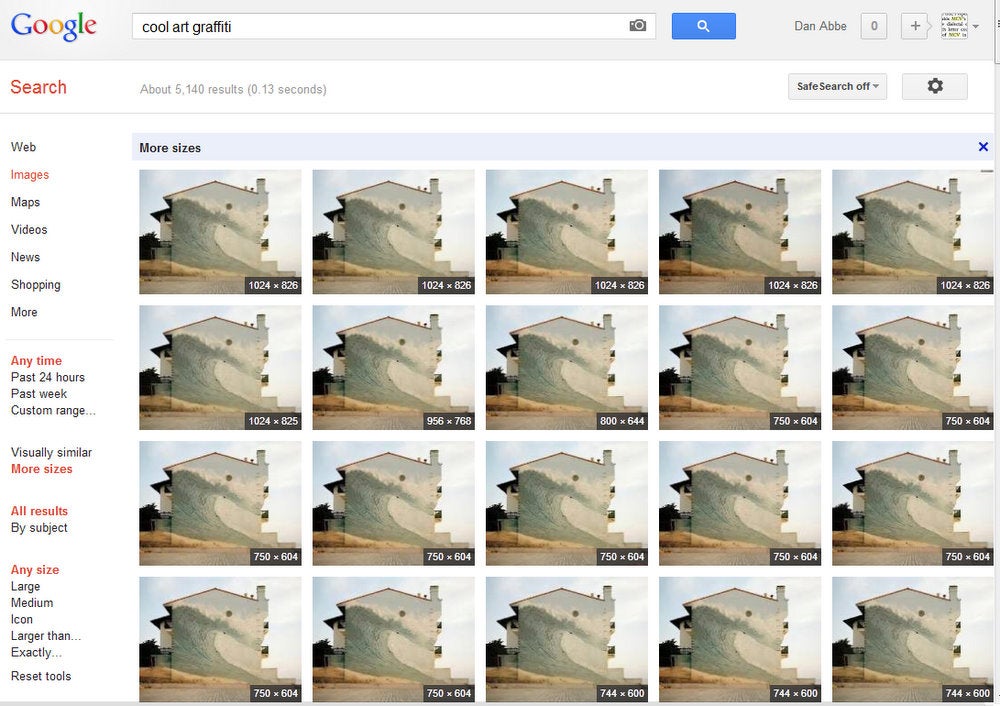 Google Image search for "cool art graffiti"
What's the story behind this photo?
This photograph was taken as the sun went down over the Bay of Biscay on France's Atlantic coast. The wave mural is on the side of a house in Hossegor, one of Europe's top surfing spots. It was painted by an artist called Dominique Antony. (You can see a video of the project here.) The light that evening was beautiful and golden, with the haze from the surf infusing the air with a real atmosphere. I took one frame of the mural, and then headed down to the beach to carry on making work.
Is it part of a larger project?
I was on assignment that weekend in June 2011 for Huck Magazine. We were covering the Swatch Girls Pro, an event on the Association of Surfing Professionals (ASP) World Tour. I photographed some landscapes for the feature, and while I included the photograph of the mural in my own edit, the magazine didn't choose it for their final layouts. Once the issue of the magazine came out in September 2011, I posted the image of the mural on Flickr. From there it just seemed to go crazy…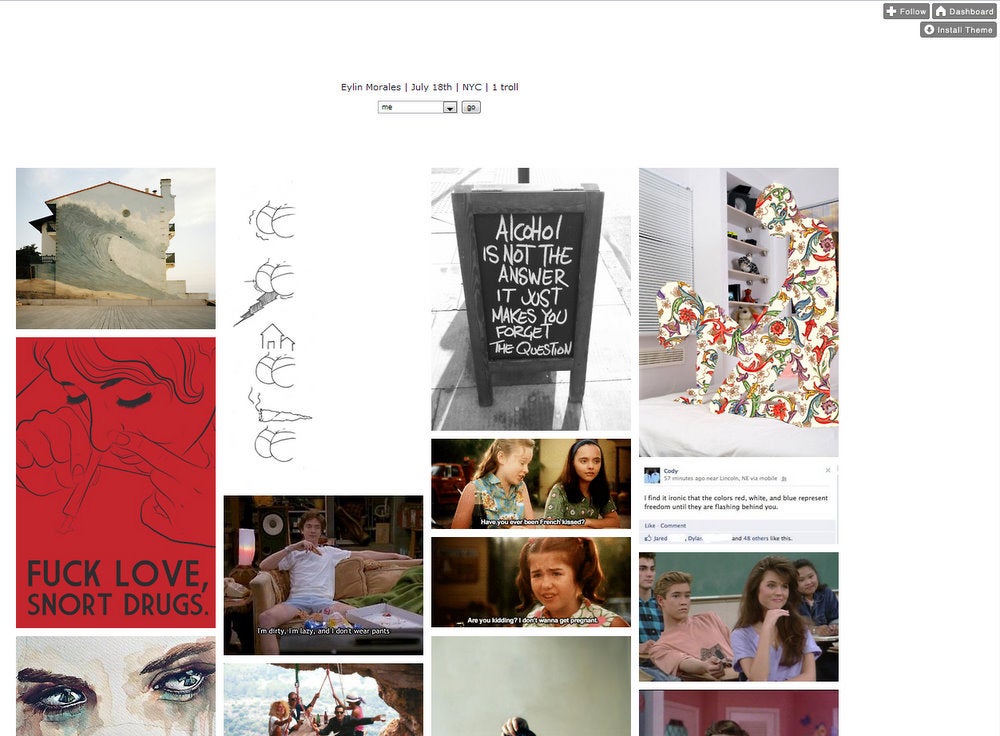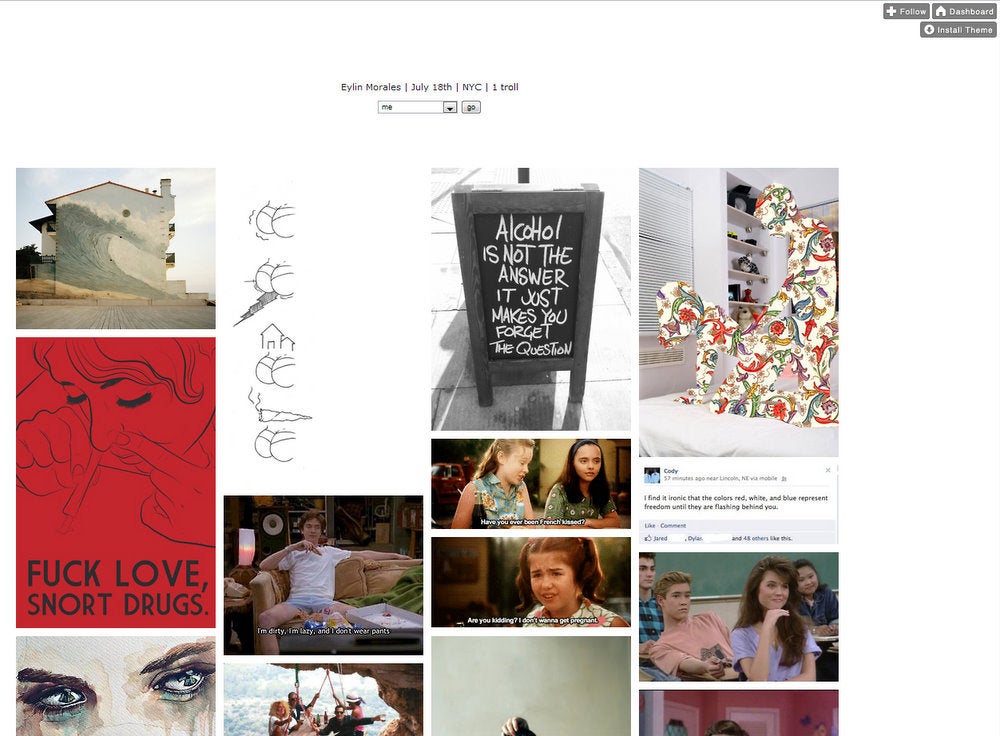 As seen on hseran.tumblr.com
Why do you think people responded to it?
I think the key to the photograph is that it appeals to people on an aspirational level. The clean lines, the tonality of the image and the dramatic (yet placid) subject combine to create a scene that people want to experience; it makes the viewer think, "I want to own that house," or, "I want to visit that beach." While Dominique Antony's mural provides much of the fuel for these reactions, I'd like to think that the compositional decisions that I made helped to elevate this photograph. There are many other photographs of Mr. Antony's mural, but none of them have gone viral in this way.
Have you had any personal response as a result?
Nothing concrete. I know that, as a whole, this body of work helped me to gain a new commercial client for whom I have now done four jobs. However, in terms of people contacting me directly after having seen this photograph on Tumblr or some other site, I'm fairly certain that's not happened. To be honest, I just don't think that's the way Tumblr works. The audiences are interested in quick fixes of beauty or wit, and interest in the content creators seems to be minimal. In many cases (not just for this photograph) I have had to pursue the owner of a Tumblr stream to credit my image. I feel that Tumblr as an organisation do very little to educate their users about these issues.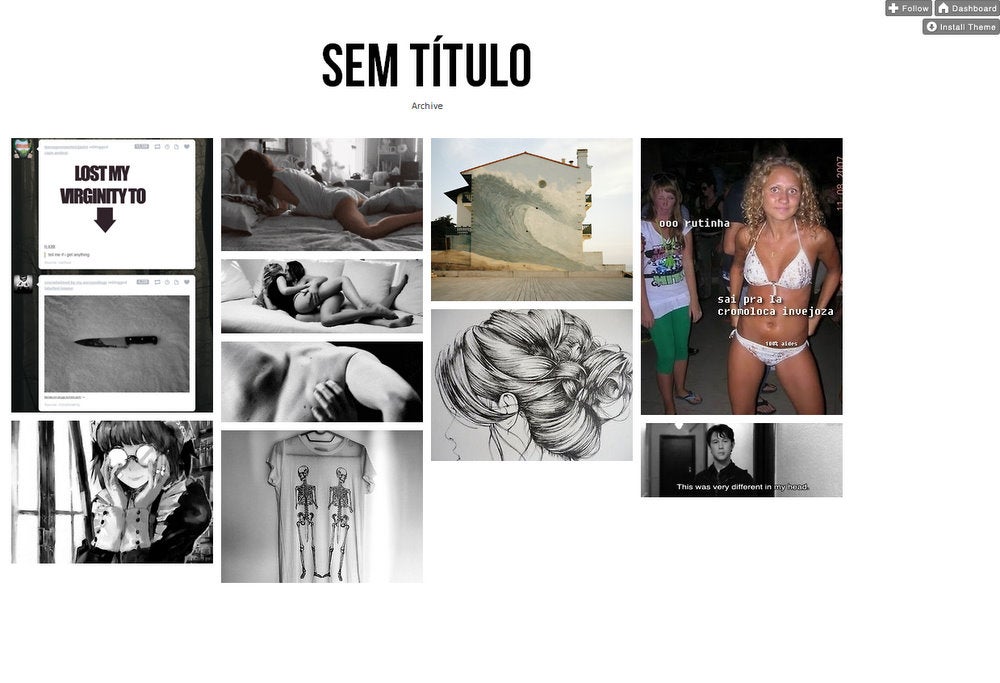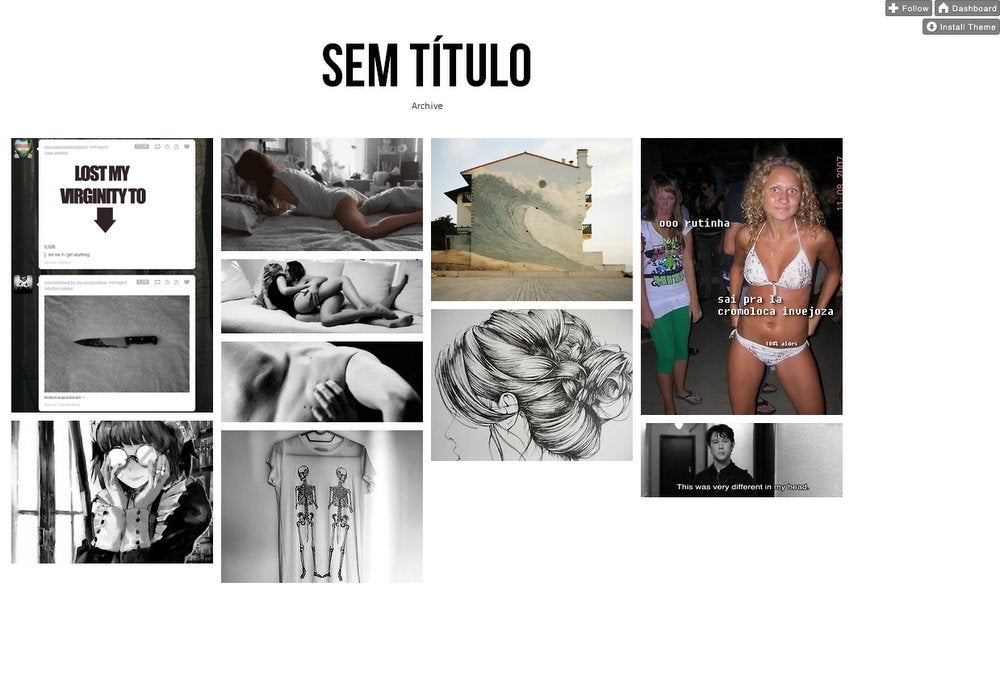 As seen on Sem título
How do you feel about having thousands of people who you probably don't know looking at this image?
In spite of my misgivings about the way Tumblr operates, I do think it's a good thing that one of my photographs can inspire and enthuse many people who I have never met. After all, if my images were only ever seen by a choice group of fellow photographers, then my whole practice of discovering the world around me through photography would seem futile.
Much of the sharing of my photograph is innocent, the modern day equivalent of a scrapbook entry. What has left a bitter taste in my mouth is the way in which I have effectively 'lost' this image. The posting without attribution, and the reblogs by Tumblr users who habitually remove credits, have effectively orphaned my photograph. Its unattributed circulation is now so great that I have no way of knowing where or in what context it will appear.
I'm not completely naive; by choosing to have my photographs quite large on my website with no watermarks, they are open to sharing across social networks. However, this experience has changed the way I deal with the social networking aspects of photography. My Instagram photographs and other single images now appear as individual Tumblr posts, with me as the original 'poster.' The idea is that there is a stronger chance that the paper trail will lead back to me, if anything does go viral. It seems to be working so far; some of my Instagram photos have had several hundred notes, with traffic being diverted back to my website. It certainly feels like I have more ownership this way.