2016 Holiday Gift Guide for Photographers
Twenty gadgets and accessories that make great gifts for the photographer on your list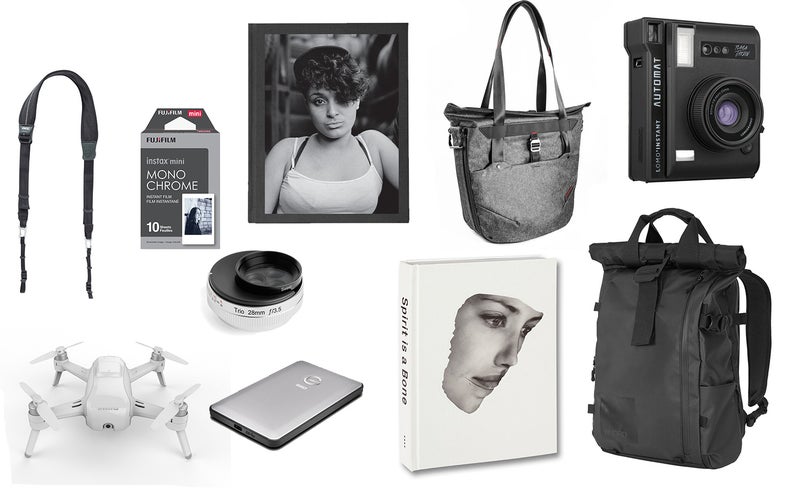 Photographers can be notoriously hard to shop for, but they don't have to be. Our annual holiday gift guide features unique ideas for every budget on what to buy for that photographer in your life.
Give the gift of instant photography without fretting over finding a vintage camera that works. This stylish contemporary option from Lomography shoots Fuji Instax Mini film, uses a simple-as-dirt zone focusing system and incorporates a built-in flash for indoor and night-time use. But it wouldn't be a Lomography camera if it didn't also sport an array of more fun features, like its compatibility with the brand's wide-angle, fisheye and macro attachment lenses, unlimited multiple exposure capability and included color flash gels.
Planning on giving a photo as a gift this holiday season—why not make it unique with this novel Risograph printing service and stylish wooden hanging system from Parabo? The Risograph machine, a 1980's Japanese reprographic technology, produces monochromatic images with a halftone pattern. This service offered from Parabo includes one 11×16-inch print on 12×17-inch art paper in either in teal, blue, bright pink or orange ink. The poster rails, a separate purchase for $20, are crafted from oak inlaid with magnets and make for a handsome and hip display option.
This hefty 240 page photobook features the inventive work of Oliver Chanarin and Adam Broomberg, a South African and British duo best known for their work subverting canonical texts. Here, the two artists use a computer vision system, designed for facial recognition as part of a public surveillance tool, to create haunting portraits of Moscow's citizenry. The resulting monochromatic images appear as oddly distorted masks, recalling the glitchy aesthetics of the initial Apple Maps roll-out. Photographers old and new should appreciate the inventiveness of these conceptual yet striking portraits.
For the photographer who has everything, encourage them to try a new twist on their portraits with this multi-effect manual focus lens for Sony-E, Fuji and MFT crop-sensor bodies. It's listed as 28mm but its real focal length will be a bit different in each mount, but always a constant f/3.5 aperture for narrow depth of focus. Turning its effect dial cycles through the lens's three settings: a Petzval-inspired lens for a Victorian look, a blurred optic for atmospheric shots and a spot-focus lens for highlighting the center of an image. Not enough options? Try setting it between two effects for fun double-exposures. Read even more about it here.
If you're planning on giving (or receiving) a fresh batch of photo-loot, make sure you've got a something to put it all in. This smaller version of the crowd-funded PRVKE blends adventure-pack durability with smart design—like comfortable shoulder straps that make it easy to haul heavy equipment—which photographers should appreciate. New features to the bag include an integrated sling-strap with ¼" tripod screw, and weather-resistant zippers to keep rain at bay. Like the older model, a removable gear cube provides support for a large camera body and several lenses. Available in blue, black and green for the style-conscious.
A poignant and well-executed book of black-and-white portraits brings together the work of 18 photographers from the Bronx Photo League in New York City. More than 90 photos inside champion the working-class immigrants whose labor powers the small businesses and industries along an expansive stretch of the borough's Jerome Avenue. A way of life for the clerks, mechanics and streets vendors pictured here is under siege by city rezoning and encroaching gentrification, and the book illuminates the potential human cost of accelerating urban redevelopment. The work, which is remarkably cohesive, recalls Harvey Wang's portraits of the last denizens of Chinatown's Bowery flophouses in the late 1990's. Documentary photography fans shouldn't sleep on this one.
A cheaper update to the popular Ricoh Theta S, this version of the two-optic 360° camera has a few less features but hits stores in time for the Holidays at $50 less. A new mobile app included with purchase of the SC boasts a more intuitive interface and is easier to use than the app for its more expensive predecessor. The new Theta also weighs less than the S, which might help boost stability when shooting video while the camera is mounted to a moving object. Nota bene, the limit for video recording has been slashed to five minutes on this model so while it might not be ideal for documentarians, the kids will love it!
Most everyone has a selfie-prone iPhone obsessive in their lives, and for those carrying the latest iteration of the Apple smartphone, this may be the only accessory they're likely to need. More than just a case, this update to the original LuMee provides what the front-facing camera on every mobile device lacks—a flash. Mimicking the ring-flash prized by beauty photographers, this case incorporates strips of LEDs around its perimeter to create an "O"-shaped light source around the edge of your iPhone for unique catch-lights and all-around illumination that can't be imitated by screen-based flashes. The case has its own battery and charging cord, so there's no need to worry about power drain.
Monographs of Woodman's work were once notoriously expensive and hard to come by, and this economical softcover, with over 250 plates, is essential reading for aspiring portrait photographers. The artist produced a staggering oeuvre in her 23 short years, and her work—poetic self-portraits largely shot in abandoned buildings in Rhode Island— has been likened to Cindy Sherman's. The rich black-and-white photos are joined by an extensive essay by British art history Chris Townsend.
You might know them for their popular camera backpacks and sling bags, but Peak Design's Tote bag is not to be overlooked. Available in two shades of grey, this shoulder bag easily does double-duty for hauling photo equipment or personal gear—its large interior space is easily and quickly configurable by way of two detachable padded inserts with fold-down dividers. The Tote is at once pared down and high tech, constructed from a water-repellent synthetic canvas and outfitted with custom anodized aluminum hardware. Pockets sewn into the soft interior lining provide space for memory cards, tablets and laptops, and a pass-through for an extendable luggage handle on one side helps make the bag airport-friendly to boot. While not the cheapest item in this list, we think the price is right for a durable and multi-purpose camera bag sure to see years of use.
The perfect (if expensive) stocking-stuffer for the serious still or video shooter, the latest offering from G-Technology is roughly the size of smartphone and ships in 500 GB and 1 TB versions, formatted for PC or Mac. Boasting 540 MB/s data transfer rates over USB-C, USB-3 or Thunderbolt connections, it will also draw power from the device it's plugged in to, freeing up wall sockets. Don't worry if it gets jostled on the way to Grandma's house, its solid-state design means it is hardier than traditional spinning disk drives.
A great starter gift for the budding quadcopter enthusiast, this compact little drone weighs in at less than a pound, is small enough to use indoors, and its built-in camera captures 4K video and 13MP stills. You can pilot it using an iOS or Android smart device or set it to any of four automated modes. While it lacks a stabilizing gimbal, it handles strong winds remarkably well and its integrated camera can be adjusted from 0-90° for framing the perfect shot. Want to know more, check out a more in depth review here.
If you spring for one of the instant cameras on this list, remember to buy film, too. Whether you're a long-standing fan of monochrome images or just want to go all in on the nostalgic aesthetic, this black-and-white film for Instax Mini cameras is rated at ISO 800—perfect for open shade, low-light and indoor shooting. A single package include 10 shots of the glossy film, each sheet of which is about the size of a credit card. Those accustomed to shooting digital may want to stock up, a pack of this stuff won't last long. We had fun with it and think you will, too.
The perfect inspiration for the landscape photographer, this book showcases 31 full-color plates of photographs from Edward Burtynky's latest series of images that focus on the impact of human development on the natural landscape. The photos in this book, taken from a helicopter, look at first like Abstract Expressionist paintings but closer investigation reveals that these images in fact depict the infrastructure supporting a 400-year-old salt extraction industry in Gujarat, India. Fans of the photographer's past work with quarries, ship-breaking yards and oil fields will not be let down.
Take your glass "to go" with this tasty-looking lens wrap, which is more than a gag gift. Although it sadly doesn't come filled with beans, pico de gallo or a side of guac, it will safely store DSLR lenses when a good camera bag is nowhere to be found. The wrap itself is made from durable Tyvek, not tortilla dough, and is lined with soft neoprene in lieu of sour cream to make sure your favorite zooms and primes stay fresh between shoots. Measures 16 inches across.
Photographers with fancy little cameras are constantly on the hunt for cool accessories and bags to show off their prized possessions. This handsome cordura pouch for smaller cameras (and smartphones) has an adjustable belt loop and pass-through on the back for easy attachment to backpack shoulder straps. The perfect size for a Contax T2 or Sony RX100 V, it'll nicely complement hip compact cameras and yes—wait for it—it's handmade in Brooklyn.
The true vintage photography enthusiast will want one of these refurbished Polaroid cameras from the Impossible Project, best known for financing the continued production of Polaroid film after the company stopped producing it themselves in 2008. Impossible have secured a wide array of the instant cameras, rehabbing them into good-as-new condition—some are playful, like the 600 Series Barbie camera ($179, direct) while others, like the SLR 680 ($600, direct) boast features like sonar-based autofocus and are aimed at serious instant shooters. You might find some of these cameras on eBay, but the Impossible variety come with the peace-of-mind of a one year warranty, not mention that your cash helps ensure that instant film will stick around for a while longer.
If you're in the market for a new camera for yourself or a loved one this season, don't forget to also stock up on storage media—today's cameras produce larger files than ever, and those high MP values mean that your old memory cards store less and less photos. This 128GB SD card from Lexar boasts transfer speeds of up to 45MB/s, important for those shooting high frame-rate video or high resolution images in quick succession. Capable of storing more than ⅛ TB, the card can also be used as a miniature external hard-drive for laptops reaching the limit of their onboard data capacity.
A staff favorite, this online service from Meridian plasters a photo of your choice on a pair of classic black flip flops. A great for gift for the whole family or for a truly unusual personal present, your photos are printed in surprisingly high quality onto a layer of soft fabric which is firmly adhered to the inner sole of the sandal. The 'flops take only a couple of days to print and ship and come in small, medium and large sizes for kids and adults.
This no-nonsense camera strap is the perfect compliment to a serious DSLR kit for those who are ready to roll up their sleeves and do some shooting. The strap, which can be worn across the back of the neck or over the shoulder, features a non-slip webbing on its interior side, perfect for shooting in inclement weather. Adjustable between 31 and 50 inches, each end of the strap terminates in a small aluminum carabiner for quick and secure attachment to most any camera.