New Gear: Tether Tools Vu Booth Modular Photo Booth System
Tether Tools' new Vu Booth system makes it easy to turn your gear into a photobooth for events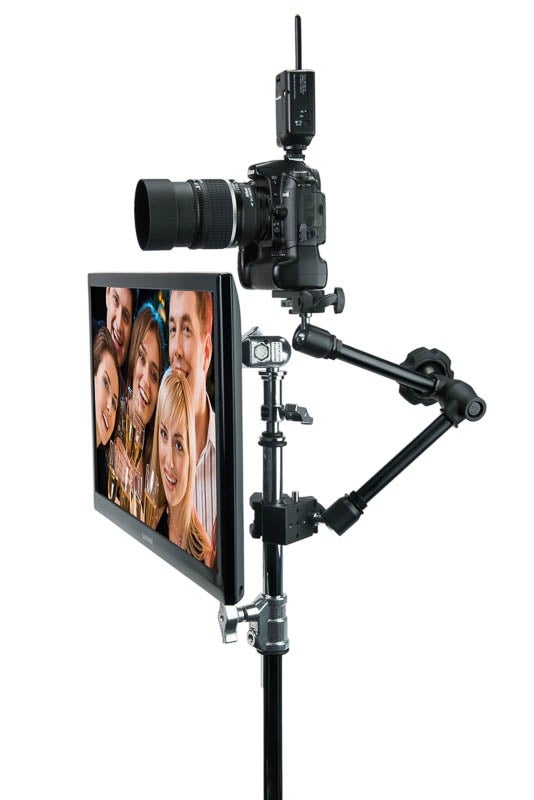 We may earn revenue from the products available on this page and participate in affiliate programs. Learn more ›
Setting up a photo booth for a company party or wedding that you're covering can involve a lot of work, and require an awful lot of large and ungainly gear. The folks at Tether Tools want to change that, with a light, flexible, modular system that works with standardized mounts and gear you already have to set up your photo booth shooting rig easily.
The Vu Booth system combines Tether Tools' Vu Mount for attaching any VESA compliant monitor, a Magic Arm, a Rock Solid ProClamp and a camera mounting platform. What that means is that you can use all gear that you already own to assemble the photo booth, since it's all industry standard mounts. Tether Tools explains how you assemble the kit:
There are three variations on the Vu Booth:
The Studio Vu ($381.99) mounts easily to a studio stand's standard 5/8″ (16mm) stud and has a maximum weight capacity of 80 lbs. (36.5kg).
The Local Vu ($301.99) mounting options include 1/4″-20 thread tripod/ballhead mount, 3/8″ tripod mount, 5/8″ (16mm) stud as well as an Arca-style plate mount.
The Go Vu ($291.99) offers a 1/4″-20 thread tripod/ballhead mount as well as an Arca-style plate mount. The maximum weight capacity of both the Local Vu and Go Vu is 35 lbs (15.88kg).
Since the Vu Booth kits are modular and small, and connect to gear you already have, it limits the amount of heavy and bulky gear you need to lug around to a shoot, and can be set up relatively quickly.
Full press release follows: