Suzanne Trottier's New Love
From painter to photographer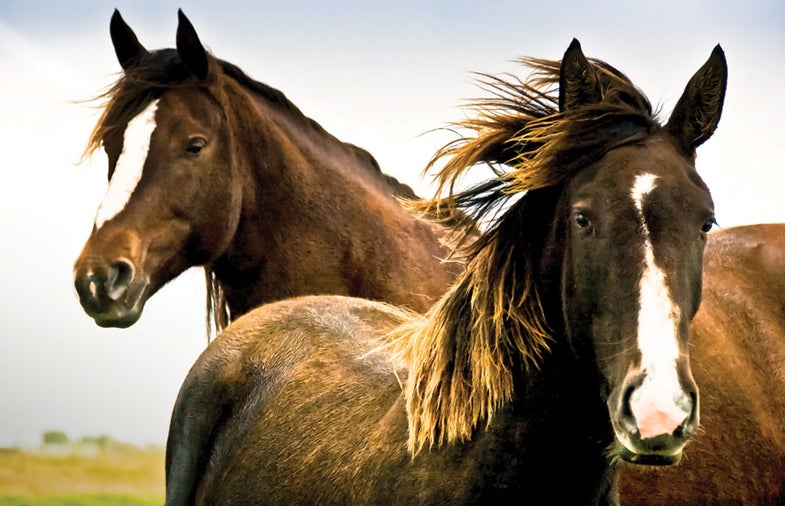 Great Photos often come from the eye of an artist. And as Suzanne Trottier discovered, one great picture can turn a painter into a committed photographer.
Traveling to Ireland for her first Mentor Series trek in 2008, this resident of Portsmouth, NH, had absolutely no experience with her equipment. Until then, she'd used photography mainly as a basis for her paintings—mostly landscapes, still lifes, and portraits of animals. "It was my first time using a DSLR camera," she says. "I had everything to learn."
Everywhere in Ireland that she looked, she saw pictures waiting to be taken: magical green landscapes, with rainbows, lonely trees, stone walls, and ruins. On one particularly windy, misty day in September, the trekkers stopped along a road. Others were drawn to the landscape, with its rolling hills, castle, sheep, and view of the ocean, but Trottier was drawn to two horses she had spotted in a field. "I got off the bus first, so I was first to approach the horses," she says. "I loved the wind in their manes. They were still curious."
She fired off three exposures—this the only one with both horses looking at the camera. "I wasn't thinking much," she recalls. "I find that spontaneity works better with animals in general."
With treks to Egypt, Switzerland, Lake Como, and China now under their belt, Trottier and her husband Tim Parker have no plans to stop photographing. But for Trottier, the first trip to Ireland was special. "I fell in love with photography on that trek," she says. "It became my passion, and it still is."
See more work by this painter and photographer at www.timandsuzanne.com.