The 9.7-Inch iPad Pro Has an Upgraded Camera and a Very Interesting Display
A beefed up camera and a color-shifting screen headline the new Apple tablet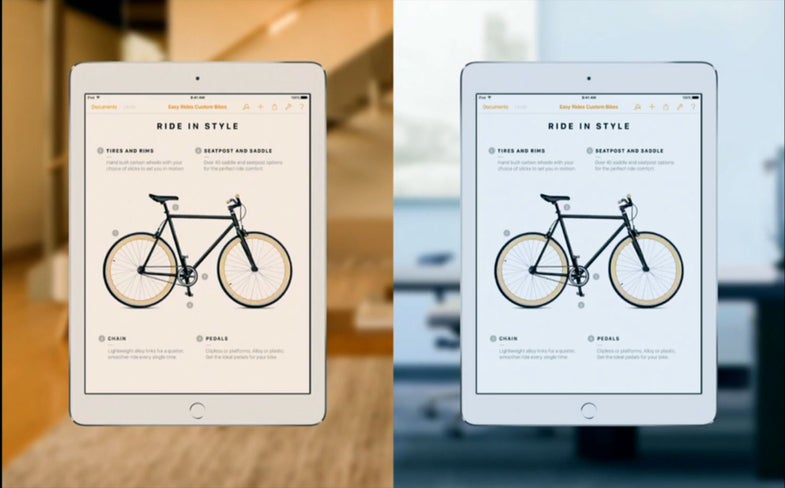 Today, Apple put on one of their much-anticipated keynotes where they announced several new products, including the new, smaller iPhone SE. The most interesting part for the photography community, however, is the new, smaller iPad Pro, which has an upgraded camera and some very interesting screen technology that could drastically affect the way people look at photos.
The camera has gotten the upgrades that you might expect and is now a 12-megapixel chip with phase detection AF pixels built onto the sensor and the ability to capture Live Photos and panoramas. It's nothing world-shattering, but it's getting harder all the time for people to claim that taking photos with an iPad is a joke.
The big news, however is the new display. The screen in the smaller iPad Pro has a 9.7-inch Retina display that they claim is now 40% less reflective than the iPad Air 2. That's a big plus. They have also added something called True Tone, which is a technology that uses four ambient light sensors built into the iPad itself to figure out the white balance of the room in which it's being used. The iPad Pro then adjusts the white balance of the screen to more closely match that of the room tone to make things appear "more natural."
The technology is an extension of Apple's Night Shift feature, which brings the color temperature of the display down into the red end of the spectrum and out of the blue spectrum after research suggested too much blue (or really, white) light before bed could mess with sleep patterns.
I'm very curious to see True Tone in action. The initial reaction is to think about the loss of consistency, but measuring ambient light has been a part of high-end color management systems for quite some time. It really could go either way, but I fully expect a few kinks to iron out in the early versions.
The screen does have some other positive new features as well, including a wider color gamut and increased saturation.
The new iPad Pro will start at $599 for the 32 GB model, $749 for the 128 GB model, and $899 for the 256 GB model.
It will be very interesting to see if True Tone handles photos in an effective way and if the technology begins working its way through the Apple product line.