New Olympus OM-D E-M10: Great Lenses Make A Great Camera [Sponsored Post]
OM-D E-M10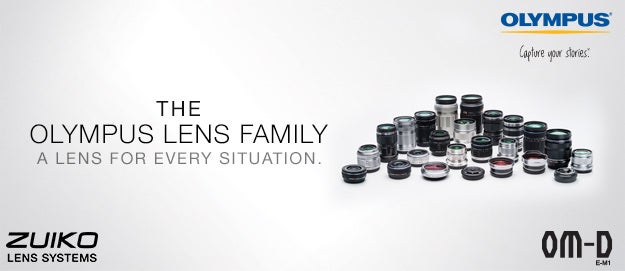 The elegant, ultra-compact metal-body Olympus OM-D E-M10 is the latest addition to the award-winning Olympus OM-D series of interchangeable-lens Micro Four Thirds-format cameras. And thanks to an advanced 16MP Live MOS combined with a state-of-the-art TruePic VII image processor it delivers pro-caliber image quality, blazing speed, impressive responsiveness, vibrant viewing, and unsurpassed ease of use for everyone from emerging photographers to serious enthusiasts. Perhaps equally important, the E-M10 provides a gateway to a world of optical opportunities. It lets you expand and empower your creativity with a full line of 15 outstanding digitally optimized Olympus M. Zuiko lenses covering an incredibly versatile range from 9mm (18mm equivalent) ultra-wide to 300mm (600mm equivalent) super-telephoto including 7 different zooms!
All Olympus M. Zuiko Micro Four Thirds lenses are crafted of professional-grade glass, and deliver unsurpassed image quality that reflects the company's long heritage in the demanding medical and scientific fields. And because the Micro Four Thirds format more closely approximates the image circle of the lens, their telecentric design transmits light to the image sensor more efficiently, enabling the lenses to be more compact and lightweight, and to provide superior close-focus working distances. Other high-performance features found in M. Zuiko lenses: Ultra-high-precision glass molding and double-sided aspheric lens elements to enhance color correction and image quality; MSC (movie and still compatible) lens-drive mechanisms; circular apertures for beautiful defocusing (bokeh) effects; and Z.E.R.O (Zuiko Extra-Low Reflection Optical) lens coating to eliminate chromatic aberration, flare and ghosting, resulting in brilliant color reproduction. The entire family of superb M. Zuiko lenses work with the EM-10's 3-axis VCM In-body Image Stabilization system that virtually eliminates blur due to handheld camera shake, allowing you to capture breathtakingly detailed still images and smooth pro-caliber videos.
Two Exciting New M. Zuiko Lenses for the Olympus OM-D E-M10
With the new "world's slimmest" M. Zuiko Digital 14-42mmn f/3.5-5.6 EZ electronic standard zoom lens *(sold separately) mounted on its ultra-compact, premium-grade metal body, the E-M10 measures an astonishingly compact 2-1/2 inches front to back! And when combined with the latest high speed M. Zuiko Digital 25mm f/1.8 M. Zuiko normal lens (50mm equivalent) it delivers beautifully soft backgrounds for capturing compelling portraits and pictorial effects, as well as providing enhanced low-light capability plus virtually silent auto-focusing when shooting HD movies.
Olympus OM-D E-M10: Portable. Powerful. Picture Perfect.
*Sold separately