Special "Back to School" Discount on Photography Courses from NYIP: SPONSORED POST
Save $50 on your choice of home-study photo courses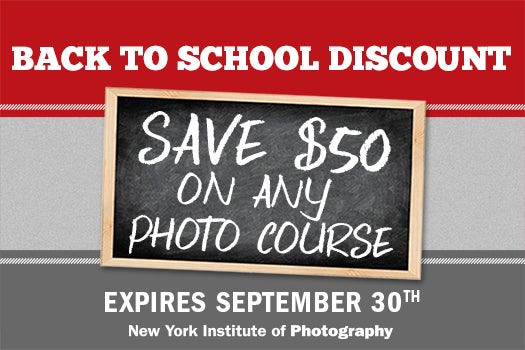 The New York Institute of Photography has long been known as one of the premier photography schools in the world. And 2013 has been a year in which the school has undergone its largest transformation in its 100 year history. Here is a list of some of the changes that have taken place in the last nine months:
Introduced an online project submission process for all students to replace the through the mail projects that many students argued caused delays in their courses
Launched a brand new version of the Photoshop for Photographers Course that teaches students professional photo editing techniques using Adobe Photoshop, Photoshop Elements, and Adobe Lightroom.
Launched an updated website at www.nyip.edu that makes it easier for people to learn about course offerings, get started, showcase their work, and get free photography tips whenever they need.
Revised and modernized the most popular course, the Complete Course in Professional Photography.
To celebrate these changes and kick off a new era of high-quality photography education, the New York Institute of Photography is offering a special Back to School discount for a limited time. Students who sign up in the month of September can save $50 off of any photography course from NYIP.
Learn more about this offer and sign up today by clicking on the link below: