Stolen Image Wins Samsung Photo Competition, Samsung Quickly Fixes It
While Samsung was very quick to pull the image when it was found out, questions have been raised about if they could have done more to prevent this fraud in the first place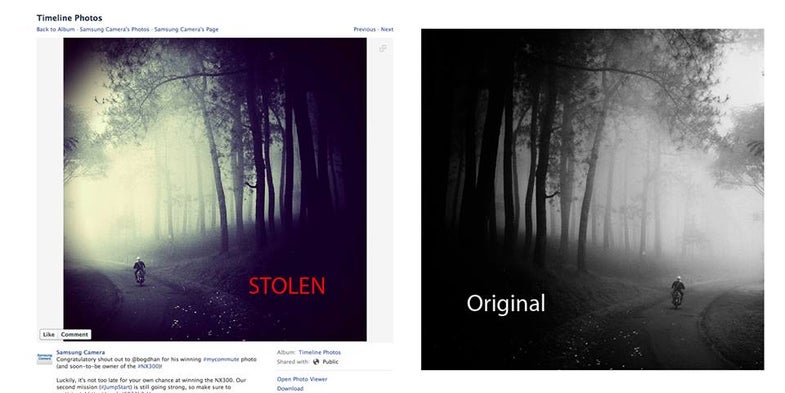 Photographer Hengki Koentjoro discovered something that every photographer dreads: that not only had his image been stolen, but that someone was using it to win a competition. A photograph that he took of a man motorcycling down a foggy road had been horizontally flipped, run through Instagram, and then submitted to a Samsung competition by another person.
That image went on to win the "My Commute" section of the competition for Instagram user bogdhan, who netted himself a Samsung NX300 for his troubles.
When Hengki Koentjoro discovered the fraud, he took to Facebook, and the case quickly spread across social media. To the company's credit, when Samsung discovered the fraud, it quickly pulled the offending image, and revoked the prize. It also contacted Koentjoro directly, and told him "Thank you for alerting us in regard to this issue. We take copyright infringement very seriously and it is very unfortunate that present case has taken place. We have disqualified the applicant of this picture and he is no longer the winner of the contest neither will he receive the prize. Further we have taken down the winner announcement posts from all our channels."
It's good to see Samsung acting that swiftly (they certainly seem to have reacted more quickly than Mini did earlier this year), again this has raised questions about how to police such actions for a competition. Some people have called for requiring original, unedited image files alongside the final product, which makes sense for fine art competitions, but not so much when run over Facebook or Instagram. But it also would have been nice for Samsung to make a public statement explaining what happened, and condemning the person who stole the image.
[via ImageandView, FStoppers]