PROJECT IMAGINAT10N [Sponsored Post]
TRANSFORMING CREATIVE CONVERGENCE: This marks an exciting new phase in Project Imaginat10n, the first film festival in history inspired by a user-generated photo contest.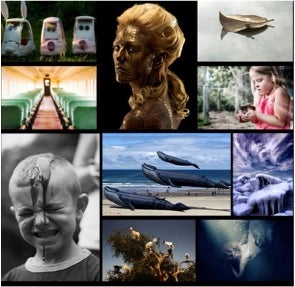 Canon Project Imaginat10n
A collaborative effort by Ron Howard, acclaimed award-winning director and producer, Bryce Dallas Howard, his versatile and dynamic actress/producer/director daughter, Canon U.S.A., world leader in advanced imaging technology, and the imagination and talent of consumer and celebrity directors, it's based on a simple profound idea: Using photographers best shots to inspire creative geniuses to create brilliant, captivating films.
Take Your Imaginat10n To The Next Level
Canon and Ron Howard were overwhelmed with the success and talent submitted to the Project Imaginat10n Photo Contest that they wanted to extend the opportunity to inspire beyond photography. The Photo Contest invited photographers to submit their photos to ten storytelling themes for a chance to inspire a film directed by internationally acclaimed celebrities- Eva Longoria, Jamie Foxx, Georgina Chapman, Biz Stone and James Murphy, all working under the guidance of Ron Howard.
The winning photos for nine of the ten themes were chosen by Canon and consumer votes. For the tenth theme, "Discovery," the winning photo was chosen by Ron Howard himself.
To go one step further, Canon is excited to announce the Project Imaginat10n Film Contest and invites directors of all levels to undertake the same creative exercise as the celebrity directors and create and submit films based on the winning photos from the 10 storytelling themes: Character, Mood, Goal, Backstory, Setting, Obstacle, Relationship, The Unknown, Time and Discovery. Totaling 91 winning photos, each theme has an option of 10 photos to choose from, except for "Discovery" in which the one winning photo will be used as inspiration for each film, consumer and celebrity alike. Ron and Bryce Dallas Howard will select 5 winning films to be packaged along with the five celebrity director films to make "A Ron Howard Presentation" that will be showcased at the Project Imaginat10n Film Festival in Fall 2013.
10 Themes
Setting
Time
Character
Mood
Back-story
Relationship
Goal
Obstacle
The Unknown
Discovery
The Celebrity Directors
**
**
Eva Longoria – Actress, producer, director, entrepreneur, and philanthropist
Jamie Foxx – Award-winning actor, musician, and comedian, and one of Hollywood's elite multi-faceted performers
Biz Stone – Twitter Co-Founder
Georgina Chapman – of Marchesa
James Murphy – of LCD SOUNDSYSTEM
ENTER NOW
To learn more about the Project Imaginat10n Film Contest, see the official rules and begin choosing the 10 photos you will use for inspiration for your film, visit www.imagination.usa.canon.com.
No purchase necessary. Must be 16 or older and reside in one of the 50 United States or D.C. to enter. Visit www.imagination.usa.canon.com for full contest details. Sponsored by Canon U.S.A., Inc. Void where prohibited.